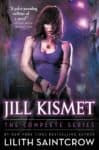 Yesterday, the iTunes algorithm kept trying to force Pink Martini's Amado Mio on me until I broke down and listened to it. Now, I love Pink Martini with the flame of a thousand suns… but so did Perry from the Kismet series.
The first bars of Let's Never Stop Falling in Love send a chill up my spine, because I could reliably play it and Perry would lift his head in the Monde, smiling his bland, appreciative smile. It's what's playing inside his hellbreed head when he's strapped into the metal frame and Jill's at work with the knives.
I suppose it doesn't help that in my head Perry looks a lot like a young Max Raabe, especially in the short story where he meets Jack Karma. Raabe in a tuxedo with his hair slicked back is exactly what Perry looks like when he's wanting to impress, look harmless to, or seduce someone. Of course I know Mr Raabe is a nice fellow and Perry only chose that particular form to send a shiver through me…
…but it worked. It worked really well.
Enjoy the music, my friends. I know Hyperion-Pericles-Perry does.