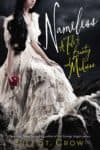 I listened to a lot of Foster the People while writing what I call the Human Tales, which the publisher insisted on tagging Tales of Beauty and Madness. (But the covers were beautiful; it's a shame the books didn't sell very well. Teen readers liked them, adults did some pearl-clutching, you know the drill.)
Foster the People is very much the music Ruby likes while driving like a bat out of hell, even though her beloved Tommy Triton is more like a mix between them and Daft Punk's Instant Crush. One particular song, though–Helena Beat–was very much Cami's. I took a sip of something poison but I'll be all right…
Working with fairytales was… troubling. The stories are deep and they are bloody; one had best be prepared to face one's own demons when invoking them. Behind the driving beat of many songs I loved when I was young lies a great deal of loneliness and uncertainty, too. Helena Beat came too late for that, but I could recapture some of the feeling while listening, especially when Cami visits the club with Tor, or when Ellie finds just a moment of peace in her busy day while the music is turned up, or while Ruby is driving fast to escape her own fears.
When you're new, and terrified, and your heart is in your mouth because pure youth is telling you you're immortal but you can't imagine living forever with the pain of what adults are doing to you every day, the beat that picks you up and shakes you out of yourself is a blessing. It gives you some small space to breathe, and sometimes that space is the difference between being broken and surviving with at least some psychological integrity.
A lot of my books are, deep down, about how to survive. A lot of the music I love is about finding a fraction of joy if one's forced to live under a terrible regime. When I was very young, enduring the indignity of living required any joy I could lay my hands on, in books, in music, anywhere. It was a necessary inoculation against the despair of trying to survive an inhospitable environment (to put it lightly).
Turn it up, feel the beat, shake the world. Remember feeling young, both immortal and vulnerable?
I do. So let's dance.