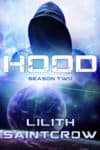 Good morning! I woke up with Hall & Oates singing about your kiss is on my list, and whichever one of you gave me that earworm, I will have my revenge.
Ahem.
Yesterday was super productive, mostly because I got a run in. I just work better when I can pound the pavement, for however short a period. Yesterday was also nerve-wracking–Haggard Feathers goes paid-subscription this month, so I was doing the last bit of prep for that. One free post per month, the rest will be paid-subscriber-only, and I'll be doing an open thread every Thursday for paid subscribers to ask me about writing and publishing.
I figure I'll try it for a year and see how it works out. I like Substack's terms way better than Medium's, and the fact that the former makes a point of not "owning" my data/content and the latter makes a point in the opposite direction has a lot to do with my willingness to experiment.
I also spent some time procrastinating (after the productivity, of course) with Canva templates. Graphic design is so not my strong point, but I like playing.
Isn't that nice? It's something I say a lot–sooner or later, the muscle inside your head that sees good writing material gets hypertrophied (and there's a great deal of hyperplasia, too, but that's beside the point) and everything becomes material. Which is great when something hurts like hell–thinking this will be great material helps provide perspective and gives the pain meaning, which is a step in ameliorating it. It's not so great when one is relentlessly questioning one's own happiness, but I consider it a small price to pay.
Of course other people's mileage may vary, but the warning still stands. Sooner or later, all things serve the work.
Anyway, I've more Sons of Ymre to get done today–one character is about to rescue another from a burning car–and I've got to get some characters in HOOD rescued in their little escape pod. Rescue seems to be the theme of the day, which might bode ill for the dogs' walk. If all else fails they can drag me home, though.
Let's hope it's not necessary; I've got so much to do today.
I'd best get started then, hadn't I.