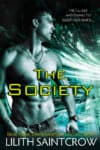 It's a brand-new year, and time for another Soundtrack Monday! Today we're visiting the Society series–in particular, Hunter, Healer.
I did a fair amount of research on Vegas casinos for the scene where Rowan and Delgado finally see each other again. And while writing their reunion (bullets flying, adrenaline roaring, homemade Molotov cocktails) I listened, over and over again, to Franz Ferdinand's Take Me Out.
I know I won't be leaving here… with you.
Delgado is an interesting case; he and Preston (from The Marked) center on the human hunger for touch. Delgado can't touch anyone mentally without excruciating pain, Press can't touch anyone at all without draining them. When you find someone who can give that most important, basic thing–sheer simple contact–all of a sudden the world reforms and priorities reshuffle.
It's probably my massage-therapy training that makes me focus so much on touch. (That, and the fact that human contact was perilous at best for most of my own life.) Anyway, this is the tune that particular shootout in Vegas is set to in my head. The ability to mentally set a casino on fire was, I'm not going to lie, extremely satisfying while I was writing it.
Enjoy!