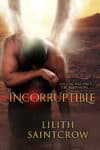 There were a lot of songs on the Incorruptible playlist. (I am now hearing Pete Puma say "a whoooooole lotta lumps.") But pride of place for that particular book has got to be taken by Delerium's Chrysalis Heart.
I listen to a lot of Delerium while writing. Sometimes it's just background, but other times a song will slide through my ears and pierce the throbbing heart of a story, and this was one of those times. I had Michael Gabon first, of course, Jenna had to hang back and see if she could trust me before she'd consent to let a few scenes be told from her point of view.
Reliably, though, I could pop some Delerium on, wait for this particular track, and Jenna would come creeping softly like a stray cat from her hiding place. Patience was rewarded, for once–give her time, Michael kept saying, but dammit, I had a book to write.
In any case, I'm trying to shoehorn another Legion book in this year's schedule. There's a certain sassy EMT who knows to keep her mouth shut when strange things happen, and I think a certain Decurion's going to stumble across her. Those two just need to marinate a little longer before I can find their through-line, I think.
In the meantime, enjoy the tunes.