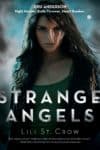 Good morning, chickadees! It was a long weekend, and one I'm not quite sure I made it through intact. But I did get to settle on the couch with a book on contesting orthodoxy in the medieval and early modern era, so there's that.
And we have a new giveaway! This month it's for two signed, personalized Strange Angels/Betrayals bind-ups, copies of which I have signed I can count on one hand. It's also out of print, which makes it even more rare. There will be two winners, and of course, newsletter subscribers got first crack at it. But now you, too, can enter–and multiple times to up your chances, too. It is worldwide, but media mail–I can't afford quicker postage, so it will take a wee bit for your book to get to you.
It's been warmer than usual for the past couple days, which the dogs have liked. At least, Boxnoggin, being a slick-coated fellow, has liked it; Miss B doesn't mind since she's got her lovely undercoat to keep her warm or cool as the situation demands.
It's a holiday, so I'm moving rather slowly. Said dogs need their walkies, and I should probably stretch out a bit and get ready for a week that will be full of yet more revision madness. I'm prepping Season Two of HOOD for eventual publication, and I have a couple new tools to do it with. This time around I'm going to try proofing in PDF instead of on paper, which I'm sure will be a barrel of fun for all involved. I have the iPad, the pencil, and the app for doing it; I'm hoping it will be enough like paper that I can actually see the errors.
Proofing on something in my lap, with a pencil clutched firmly in hand, is vastly different than proofing on my desktop screen. Each way I see different errors; I'm pretty sure it engages vastly different parts of the brain. If this particular strategy works, trad publishers will be overjoyed at not having to send me paper proofs; if it doesn't, well, at least I tried.
I suspect I'm going to say "at least I tried" a lot this year. There are worse fates.
And now it's time for said walkies with said canines. They've been very patient, but Miss B has her nose on my knee, so I suspect her remaining patience is of short duration.
I suspect that will be a theme for this year as well. Looking forward to it. Happy Monday, my friends!