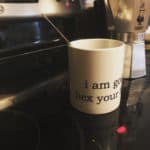 It's the eve of the Eve. Yule is past, which means I can relax a bit, but the kids are just ramping up into their yearly excitement. The dogs are settling into the new normal, which is scraps at dinnertime and a big glowing thing sitting in the living room that the humans don't want them to nose affectionately or, gods forbid, snack upon.
Come the New Year we'll be back in the regular swing of things, but until then I'm taking it relatively easy.
Relatively, of course, because it's me–I'm only working eight hour days, and those eight hours are broken up differently than usual. Tomorrow I'll probably only put about six hours in, on Christmas I'll be sneaking away from the kitchen and the festivities to work on something that pleases me alone, and Boxing Day will be a non-work day. For whatever value of "non-work" I can manage.
I do need to relax sometime, you know.
I might pop in here and there on social media, and I might do a blog post or two, but if you don't hear from me until the New Year, don't worry. It just means I'm sitting on my hands to keep from driving myself into the ground. So , there will be no Soundtrack Monday, Writing Tuesday, or Photo Friday until after January 1.
I wish you a lovely holiday full of good food and low stress, my friends. 2019 was somewhat awful; I have very little hope that its successor will be otherwise but for a few days, I'll just focus on having survived this year.
It's a small victory, but I'll take it. See you in a bit, chickadees.