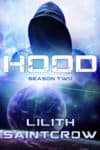 I'm finishing up the zero draft of HOOD's Season Two this week, so this Soundtrack Monday will reflect that. HOOD owes a great deal to many retellings but the sheer zany joy of Disney's is what I return to when the others get too bleak, and I often find myself humming pieces while I write. Chiefly Oo-de-Lally, of course, Alan-a-Dale as a strutting, gittern-plucking rooster enchanted me as a child.
I can still hear Little John, each time I see a feathered cap or a longbow–Pretty hard to laugh, hangin' there, Rob. Or Prince John, moaning Mama!; Sir Hiss the snake minister fills me with both hilarity and dark foreboding. Fortunes forecast, lucky charms!
I also sang Robin and Marian's theme to the kids often as a lullaby, while rocking in an old squeaky chair I had also rocked my sisters in. (Love, it seems like only yesterday…) But today, it's Oo-de-Lally all the way, especially since I have to figure out what Robb gets caught for to end Season Two.
If you're curious, I have a whole playlist for the serial. It'll change as we head into Season Three, of course–the whole game is getting more serious, and Marah's faced with a jailbreak (Giz and Alladal may have to team up for that one) and having to rescue King Richard (who has hopefully learned a lesson or two about haring off when he's needed at home, kthxbai) to boot.
All in all, Season Three will be a challenge of the sort I like best. But for today, it's a musical interlude with a singing rooster, a pair of foxes, a wolf in a doublet, and anything else the stew inside my head bubbles over with.
Oo-de-lally indeed. Golly, what a day.