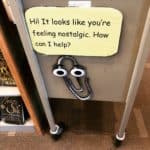 Good morning, chickadees! Today I'm over on the good 'ol Substack with a post about NaNoWriMo. I've decided on a schedule of Soundtrack Mondays, Writing Tuesdays, and Friday Photos, which should keep stuff around here hopping.
I'm not just an author, I'm a damn experience.
It's foggy this morning, the inversion and Stagnant Air Advisory combining to wrap the world in cotton wool. Yesterday I could smell the sea in little pockets, bits of rank salty kelp rotting on a shore. While there's a scrim of welcome moisture on the ground–yesterday was so dry my hair rose up in staticky rebellion–I still can't wait for rain. We're having a dry, cold autumn, which is not usual.
I need falling water.
On the bright side, new shoes have made a dent in the plantar fasciitis. Barring hobbling in the middle of the night and right when I wake up, I'm actually feeling pretty good. I'm sure as my running mileage increases, slowly but surely, I'll feel better and the pain will fade. The first few weeks are just going to be a bitch, because that's how it always is before slight changes begin echoing through my carcass.
Meatspace is sloooooow, my friends. At least, mostly.
I'm toying with the idea of asking for beta reader(s) on Finder's Watcher. The big thing is that I can't pay an hourly rate; the most a beta could get is a free ebook of the unedited and edited versions. I'm hesitant because I don't think it's a fair price for the time spent reading and organizing one's thoughts on a book, though I'm only asking for reactions, not critique or editing. If I can satisfy myself that it's a fair trade, or add something to make it a fair trade, I might put out a call for applications.
That extra hour of sleep I was so happy to get has vanished, but I'm not upset. It was fun while it lasted. Now I just have to train the dogs in ten-minute increments to their new dinnertime.
I'll probably fail, because I'm a sucker for their big brown eyes and hopeful snoot-boops. (AutoCorrect tried to make that snoot-goops, which is what Gwyneth Paltrow's company shoves up rich people's noses. Ugh.) Still, if one has to be a sucker for something, it's not bad.
Time to shut this circus down, wrap the leashes around my waist, and take the dogs a-walking. I've wordcount on Finder's Watcher and on HOOD to get done, a shower to take, plenty of hot tea to fuel me and keep the chill at bay, figure out the giveaway for this month, and and and. Yesterday the Muse wouldn't let me go to bed until I made a few more stabs at Corvinus Reborn, which is Wangsty Dracula wanting more of my time than he's getting.
He's going to have to suffer. Which, being a Main Character of Wangst, he's completely suited for. I only hope it doesn't make him unmanageable.
Come, Tuesday. *chambers a round* Let us dance.