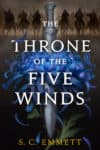 So there was a book release, a zero finished, then another book release–this one ultra-stressful for a variety of reasons–and a beloved pet dying.
No wonder I feel like the last few weeks have been an endurance contest, and one I've got the worst of. There was also a shift to a new desktop, which is mostly pleasant–as in, my damn computer isn't requiring a restart every ninety minutes–and partly goddamn annoying. (Catalina broke my Time Machine backups. Fortunately, I have several different automatic backups for work, so it wasn't a catastrophe, just a series of minor disasters to be surmounted with ingenuity and stubbornness.
I have a limited stock of the former, but my stubbornness is unmatched.
My master to-do list has finishing the zero for HOOD's Season Two (featuring a speeder race, a giant heist, and various other fun things) next, but I think I'm going to shift to revising Damage, which needs to go out and start making the rounds. I've several projects out on submission; you'd think I'd have a single bite so far. *sigh* Festina lente, that's publishing. I'm getting to the point where I'll set time limits for them; if they don't respond, it's time to get a damn cover and format something myself.
I'm very tired of being treated like a nuisance instead of the person whose work (creating the damn books) makes everyone else's job possible.
At least I've cardamom coffee, shoes that don't make my feet hurt (my gods, Alegrias are magic), said new desktop (shiny and new and organized after this past weekend's drive to get everything in its place) and the kids are healthy. The dogs are attempting to move me out the door for walkies through crisp dry fallen leaves, I can ease back into short interval runs because I'm not walking on knives, and my windowsill is full of freshly dusted and cleaned glass apples.
In short, things are as best as can be expected, in this most semi-perfect of worlds. And I might be able to plug in a beautiful papier-mâché lamp that was a gift many years ago, and contemplate its beauty before whipping a zero into first-draft shape.
It is indeed the little things. Here's hoping Monday doesn't get worse than this. I know I missed the Soundtrack Monday last week (grief does funny things to time) but I've got a good one for you this week, my friends. It'll drop this afternoon.
See you then.