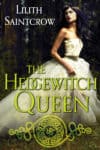 It's Soundtrack Monday again!
I was tired of modernity when I wrote The Hedgewitch Queen. I wanted something else, and all of a sudden Vianne was in my head, telling me about a muddy skirt on the day her entire world was upended. My love of Dumas (père, naturally) spilled into the books, as well as my bone-deep admiration for Jacqueline Carey's Kushiel series. I wanted feathered caps, high manners, royalty, intrigue, magic–so I made some, and poured it all into the story of a lady-in-waiting called upon to save her country with only her wits and her small, peculiar talents.
And, of course, there had to be music. I won't share the piece that gave me Tristan d'Arcenne yet, but I can share this.
If you want to hear the R'mini dancing, all you need to do is listen to this particular Jesse Cook piece. You can hear the contest at the end of The Bandit King, where the dancers line up and the elder women judge the quality and passion of their performance. You can even hear the moment Tristan catches sight of Vianne again.
At least I can, and while I didn't like him very much, I suppose by the end of the road he had grown a little. Just a very little.
Enjoy!