The wind is up today, the Columbia Gorge inhaling for the deep dive into winter. There was stuff hitting the roof all night, but once the dogs are settled on my bed nothing fazes them.1
Of course, that could also have been because the wind chill manages to make the house a trifle chilly at night, so sleeping in a pile mitigates the shivers. I was actually a little too warm, what with flannel sheets and down comforter, not to mention two hairy little stoves to my left.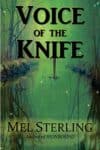 I do have something awesome for you today, chickadees. My writing partner has a new story out, Voice of the Knife, which centers on woodpeckers, terror, and the legend of Jenny Greenteeth. I consider it one of the five perfect stories I've ever read, which is saying a lot. There's not an ounce wasted in it, and the ending is simply marvelous. I highly recommend taking a gander, not only at it but at her other stuff. Especially Shots in the Dark.2
I am thrilled absolutely to the gills to be able to shout about Voice, since I love the story so much. I'm pretty sure my enthusiasm is both terrifying and amusing for said writing partner, but I don't do halfway friendships. I am like an octopus on your face UNTIL WE BOTH DIE.
Uh, so to speak.
Anyway, it's a windy day, the dogs need walking, and the Damage revision is going to be a knotty problem. Yesterday was a 1k net word gain, and I only got two chapters revised. I knew the zero was extremely lean, but this is kind of ridiculous. To be fair, I finished it under acid-test conditions, and I won't let it out of my hands until it's a respectable length.3
On the bright side, I got a lot of work done even though I had to leave the house for errands4, so I can look forward to being super productive today because I won't be interrupted…
…that's right, go ahead and laugh, I am tempting fate in the extreme. I will be interrupted, but whoever (or whatever) does so will have to deal with Very Direct Problem Solving so I can go back to revisions. I want this draft done and resting with my agent before NaNoWriMo.
But more about that later. For now, it's time to walk the dogs–though B will have her nose in the air to read the wind the entire time, which will make her trip, and Lord van der Sploot will hop lively every time the invisible hand of moving air brushes his hind end. Fun times will be had by all. (Can you see me rolling my eyes? I'll bet you can.)
Enjoy Tuesday, chickadees. It's our only hope.