Did you ever want to do something really, really different? So different, indeed, nobody would guess it was you?
I did. And my publisher was willing. And now you can read it.
---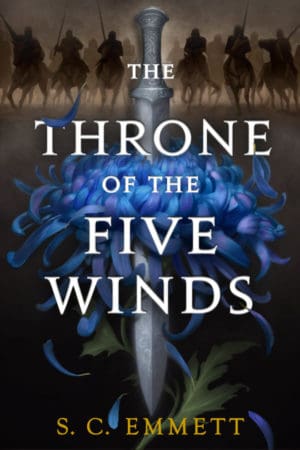 The warlord Garan Tamuron and his general Zakkar Kai have unified Zhaon. The crown to their conquest is the neighboring country of Khir, a dagger pointed at Zhaon's heart—now bled white and dulled, forced to send tribute to the conqueror.
Two queens, two concubines, six princes—the palace complex is full of jostling, sly gossip, and danger. A hostage for Khir's good behavior, the lady Komor Yala has only her wits and her hidden maiden's blade to protect herself… and her childhood friend Princess Mahara, sacrificed in marriage to bring a tenuous peace.
The Emperor is aging, and only one of his many sons may take the throne. Whether they wish to or not, all six princes are locked in a deadly battle, and a Khir princess and lady-in-waiting are merely pawns to be used. Still, it will only take a single spark to ignite fresh rebellion in Khir. If that spark is the mistreating of their cherished princess, Yala's beloved lady, war may be closer than a maiden's blade itself.
And then, the Emperor becomes ill, and a far more deadly game begins…
---
I've seen a few people saying the book takes a long time to get underway. That's true; it's like every first book in an epic fantasy trilogy that way. Just sit back and settle in, my friends, there's two books left and enough heartbreak, intrigue, dazzlement, tea, and gore to suit you all. Sip your drink and let me tell you a story of an emperor, six princes, three lands, a barbarian horde, and a lady-in-waiting with secrets sharper than her blade.
Originally titled The Maiden's Blade (which some of you will remember pieces of for my dear subscribers) this first book has had a long hard road to publication. I sort of didn't want to tell anyone, but it's too good a secret to keep–especially according to my publisher.
So, my dears. Enjoy. I'll be out for most of the day, trying to take deep breaths. Even a quasi-unannounced release day is enough to give me nerves.