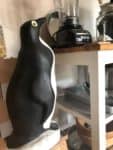 Hey guys, you can get the first six chapters of my upcoming September release, Incorruptible, for free right here. Enjoy!
---
Well, I'm awake.1 The good thing about taking time off is that even a half-day lets me recharge. The bad thing? I get itchy, and resentful that recovery is taking so long, so I do silly things like go for a run, push myself, and get injured. Or read true crime for a few days straight and freak myself out.
So, when I left the story last week, I had resorted to bringing a two-foot plastic penguin to the coop. I propped Shirley on the concrete stepping-stones along one side of the coop, and Turkey Boy was so incensed at this new arrival he forgot all about me. I was able to fill chicken kibble and collect a few eggs unmolested, and was quite cheerful at the thought that the problem had been solved.
Now, a dog might be intelligent, but turkeys are downright crafty. Turkey Boy, despite being fine and feathered, could not stand the interloper at the coop even though she stood quietly outside the fence, turned in profile so she was regarding them mildly in the manner of another prey animal. Of course, distracting him was the whole point, but I'd forgotten about one thing.
Namely, the Goose Girl.
I've dealt with geese in flocks and singles, and they're filthy but wonderful beasts. They're stubborn, smart, bad-tempered, and sacred to Juno–what's not to love? Plus, they can only pinch you with their beaks and have no spurs. They're loud and nasty-tempered, but relatively harmless. Relatively.
And they have very long necks. But that comes later.
One hot, bright morning2 I set Shirley down in a slightly different spot, changing it up to keep Turkey Boy interested. I wasn't sure whether his gobbling was akin to Tormund seeing Brienne for the first time or a string of raging obscenities, so I nipped into the egg room to perform my tasks at high speed and ignore the rats at the same time.
What? The rats? Don't ask, just know that when you have chickens, you've got rodents, too. The scratch grain takes care of that.
Anyway, I had just gathered most of the henfruit when the entrance to the coop yard darkened. I glanced in that direction and saw a familiar snood poking through, but I got the shovel-head over the opening in time.
Which just meant, really, that Turkey Boy finally had something within reach to vent his feelings upon, and he appeared to need it.
In short, he flung himself at the shovel-head blocking the entrance so hard he almost ripped the handle out of my fingers, and I may have let out a Graham Chapman-worthy "Jesus CHRIST." It was a trick of both stretching and agility to get the remaining henfruit into the kibble can, and if a rat had come along then it would have found me seriously distracted. Thankfully, one did not, but I was faced with a quandary.
You see, I had the kibble can in my left hand, loaded with eggs. I had the shovel-head blocking the entrance to the coop-yard, the handle clasped firmly in my right, and the door was behind me.
Quite a bit behind me, as a matter of fact. Now, the coop is basically a medium-sized shed, but that's still a lot of territory to cover when one is being pursued by a maddened, spur-crazy Meleagris.
I had no choice but to conduct a fighting retreat. The threat of the shovel kept Turkey Boy mostly at bay, and I managed to get the door flung closed and braced with the bucket of oyster shell.3
He hit the door twice, not bothering to gobble. Turkey Boy meant business, and he had discerned that Shirley's presence might mean that I was sneaking about, gathering eggs, and daring to feed him and his cohort.
That, apparently, could not be borne.
It occurred to me that I could place Shirley on some stacked wood or a yellow rain barrel, and the novelty of altitude might overcome Turkey Boy's native cunning for a short while. Of course, it occurred to me standing in a dark antechamber amid cans of chicken feed, while the eggs in the kibble can rattled a bit. Whether they were settling from my recent burst of motion or my hands were shaking, I shall leave you to imagine as pleases you.
So I loaded the eggs in plastic bags for transport to the house–where they would be washed, dried, and put in cartons for anyone I could unload them onto4–and closed up the coop annex, then came around the corner to collect Shirley.
I rounded said corner, in fact, just in time to see Goose Girl stretching her neck through the fencing, determined to get her beak close to this new interloper. I whisked Shirley into a saving embrace and sighed, while Goose Girl retracted her sinuous neck and honked a few mad words at me. She visibly realized my presence outside the annex meant the trough inside was full of kibble, though, and hurried away to take advantage of that before her midmorning bath.5
Turkey Boy, however, had scurried through the tiny coop-yard door once more, and came at the fence meaning business. The thought that I was either going to have to fend him off with a plastic bag of eggs or Shirley herself crossed my mind in a flash, and I dropped my center of gravity slightly, prepared for whatever may come.
But Turkey Boy stopped short of the fence, knowing from other attempts that it would resist his foul (ha ha) plans. He regarded me sideways with one beady little eye, wings held down, not stomping or gobbling, his tail fan-high and his snood turning crimson at its tip.
He wasn't angry, that posture said. Rather, he was thinking.
"Uh-oh," I told Shirley on our way up the hill. "Maybe we should get you some tinfoil armor."
I forgot about the suggestion almost as soon as it was made, but it might have been better if I hadn't. Because the next day, the goddamn turkey used a goose as a tool.
To be continued…