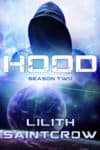 I've got a survey out to my serial subscribers, asking if they want to go to Season Three of HOOD when Season Two ends. Season Three is the payoff, but from what I can tell, plenty of people are getting bored with Season Two.
I don't take it personally–serials, especially long-running ones, are difficult, and the long shoal in the middle of a trilogy's Book 2 is an inescapable fact of life. But it does mean that I might be finishing Season Two and putting together a whole new serial.
It might even be The Highlands War, but don't bet on it. I have several prospects, including Lightning Bound and the wangsty Dracula reboot I've been playing hooky with. I may just keep Wangsty Dracula for my own personal delectation, too. It's nice to have some things just for oneself.
In other news, I spent the weekend getting a few things put together, like an upcoming test giveaway. I'll be giving away two signed, personalized copies of the UK edition of Dante Valentine; I want to see if the giveaways will drive a couple other things and I don't do signings anymore.1 Of course, it may be an idea I'll quietly let die on the vine once the flu-fever recedes, because I've been running 99.9F or slightly above since last week.
I don't mind fever so much–my body tends to cook itself at the slightest provocation–but the body aches have convinced me it's flu, and I do mind those. I feel like I've been beaten with a truncheon. The only thing I'm missing is garish bruises, which I'm alternately grateful for the lack of and a little peeved that I'm not wearing a badge of honor for.
I know it doesn't make sense. It's still how I feel.
Anyway, I've a full list of things to get done today, including the finishing touches on the giveaway and some yoga, since I'm going mad at not being able to run. If it's not plantar fasciitis it's the damn fever; it's always something. Getting older sucks, but there are good things too. Like being able to look at things, shrug, and set them aside when they're not serving me.
In any case, it's a Monday and I'd best be back at work. I hope your beginning-of-blessed-autumn is proceeding a little more smoothly than mine, dear Readers.
Over and out.