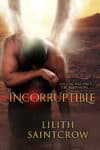 I've only twenty minutes before I have to shove the icepack back into the freezer and hop in the shower. I don't care if my plantar fascia hurts, I have to run. I have been going mad with the enforced rest, and tomorrow is a release day.
That's right, tomorrow, Incorruptible is released to the world for your delectation at midnight tonight. Remember, you can download the first six chapters here for free.
I already have release day nerves, so I've been pushing myself pretty hard this morning. If I can get tired enough I might even be able to sleep tonight. I finished the zero of Damage late last week. It's only around 46k, but there's plenty of room for expansion if it gets sold as a category.
I'm trying to work out what comes next. Orphaned and out of contract is never a fun place to be as an author, especially in this economy. It's one of those days I think I should pack it all in, become a plumber or something, and only write for home consumption, so to speak.
Don't despair, dear Readers. The feeling is normal, I get it right before every release day. You'd think it would get easier to deal with, but each time it wears right through the carpet and cuts a groove in my mental floor.
In any case, I have Hell's Acre, Memory Game, and HOOD's Season Two open in Scrivener. The last needs a stiff reread to get back into the groove, and if I push I might get a zero out in the next month. That would be nice; I'll probably work on Memory Game next since I'm still in a suspense/thriller mood.
But in the meantime, I'm going to finish icing my heel and stagger for the shower. Getting back to work after finishing a zero is always an exercise in stubbornness, like hopping in to jump double-dutch. I never quite got the hang of that, but it didn't stop me from trying. One day I'll time it right.
Over and out.