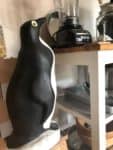 No turkeys were harmed in the course of this entire thing. Inconvenienced, maybe, but that's it.
---
I know you guys are wondering what happened on my last turkey-wrangling day, but it's entirely anticlimactic. Don't say I didn't warn you.
The Princess, a little concerned for my safety (or maybe my sanity, since I was returning home almost prostrate with heat and muttering about turkeys), decided to go with me on the last day. "I could hold the shovel," she suggested, with a glint in her eye.1
"No way," I said, immediately. "If that fucking turkey comes at you I'm going to have to kill it, and I want to avoid killing *friend name*'s turkey if it's at all possible. You can stand outside the coop. With Shirley."
"You're a good friend." She hopped off to get ready for the expedition.
I suppose I should add that my children are well used to Shirley, since she sits in the dining room most days, keeping an eye on the dogs while they're at their bowls.
Anyway, we got there–I did not have to wrangle goats that day, thank the heavens–a little earlier than usual, and after dealing with all the other livestock we headed down to the coop. It was a bright, very hot morning, promising a tar-softening scorcher of an afternoon.
The Princess had seen Heloise and the chickens before, but never a turkey. "That's… a really big bird," she said, clutching Shirley to her chest.
"Just keep his attention." I cast a critical glance at the coop fencing, which appeared to be holding up. "Wave Shirley around or something."
"Yes ma'am." She set to with a will, performing what I can only describe as a very slow interpretative penguin dance.
I tossed in scratch, glanced nervously at Turkey Boy, who was strutting back and forth with his tail high and his wings down, and backed cautiously out of sight.
I got in and out of the egg room, blocking the opening with the shovel, and found a paltry three eggs for our trouble. I did not, however, heave a sigh of relief until I was out of the egg room, the door firmly shut, and further firmly out of the coop itself, with the antechamber door closed as well.
"He's really quite stunning," the Princess said when I rejoined her at the fence. She had ceased her dance and was staring in rapt amazement. "And he looks calm."
"Uh, not really. See the way his wings are down? That's part of the mating dance. He's not stomping, but he's close. Plus, see how his snood's getting red, and his throat too? He–"
I might have continued to lecture, but Turkey Boy made a short dash for the fence. Both the Princess and I stepped back in a hurry, and I almost turned my ankle in a rathole. Shirley swayed, and Turkey Boy stopped dead.
He might have leapt for the fence, but I think he saw Shirley and the Princess as an unholy cryptid of some sort, a terrifying amalgamation of young woman and flightless bird. He stopped, staring at us, and his throat vibrated with loud gobbles. Goose Girl had already nipped into the egg room to get at the kibble before her midmorning bath.
"Let's not push it." I grabbed the Princess's sleeve and all but hauled her away.
I'm glad of two things: that someone else saw the sheer size of the bird, and that Turkey Boy didn't come through the fence. If he'd gone after my child, she might have had to fend him off with Shirley before I arrived with a shovel–or before I grabbed him with my bare hands. Those spurs are deadly and only God knows what the resultant wounds might have been infected by, but I'd wring that bastard's neck if he came at my baby.
We locked everything up and got in the car, and I didn't quite spin out of the gravel driveway.2
We drove in silence for a short while, and finally the Princess turned to me from the window, her eyes gleaming with mischief. "Are you feeling relieved?"
"No more turkey," I muttered, with feeling. "Thank gods."
"Don't worry," she said. "They'll go on vacation again next year. By then you'll have forgotten all about this."
"Oh, fuck," I muttered, knowing she was right.
It took a good hour before she stopped giggling.
---
ANYWAY, that was the last day I had to wrangle a turkey, and it passed without incident. Except for the rats, of course.
But that's (say it with me) another story…