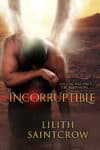 So Incorruptible is out, and I'm aching to get back into the swing of things after the usual release day nerves. You'd think after however-many books out, I'd be almost blasé about a release day. But that's not what happens. I still get just as nervous-anxious-upset, each damn time.
It's like the speed of light, I should just take it as a constant and arrange for it, then move on.
I woke up this morning wanting to write a Dracula reboot with reincarnation and angsty blood-drinking, not to mention the monster getting the girl. Which is strange, because one of my biggest turnoffs in a narrative is the creator not being willing to hurt their monster. Maybe it's a function of reading Caroline Kepnes's You and Providence in the same weekend; I got halfway through Hidden Bodies and decided that the Very Angry White Guy Joe Goldberg was going to get everything he wanted and I didn't need to be around for that. You was pretty amazing, but Providence left me wanting something quite different. I'll probably return to Hidden Bodies later, just because I'm a completionist and paging to the end to see what happens doesn't quite satisfy, especially when I'm reading critically.
Having a monster without consequences just isn't my jam. There's nothing wrong with wish-fulfillment fic, far from. I just usually want something different and I'm a little bemused at my sudden urge to write it myself. I suppose one could do wish fulfillment and consequences, that would be a worthy hat trick.
Anyway, I'm just noodling. I have HOOD's Season Two to work on, and Memory Game, which I think will be the next project-of-my-heart finished. Then I can make decisions about Dracula reboots. I have all the major parts for the last bouncing around inside my skull; I should probably just get them into a Scrivener doc so they'll stop dancing around and making noise…
…stop laughing, dammit, I swear I'm not going to work on it, I'm just gonna write a few things down.
STOP LAUGHING.
Okay, yes, I give up, if you're thinking I'm probably going to play hooky and write at least the first few scenes of a Dracula reboot wish-fulfillment thing today, you're right. Like REO Speedwagon, I can't fight this feeling anymore.
Goddamn Muse. I suppose I'd best get started so I have some time left over for actual work today, too.
Over and out.