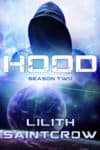 Season 2 of HOOD starts today for my lovely subscribers. I'm pretty pleased, even if I might need three seasons instead of two after all, to get the arcs to fall right. Ah well, never rains but it pours, and that gives me more time to plan other things, I suppose.
The stress of the last week and a half is receding, though not nearly as quickly as I'd like. As I get older, it takes more time to bounce back from the killing worries, both financial and personal, that go along with this career–and, let's face it, being a single mother. I suppose from outside it looks successful enough, but that semblance hides the fact that our household is hovering barely above the poverty line and it only takes a single bad event–or a single publisher refusing to pay what they owe–to trigger catastrophe. It doesn't help that I spent the early part of last week working furiously, almost to the edge of burnout, to make sure HOOD: Season One was out properly and to get Incorruptible prepped for release. (The latter won't be out until September; don't worry, you'll know as soon as preorders are up.)
So I'm a little shaky, and even though the worst of the disaster has been addressed, I'm still vibrating in place. (Not quite fast enough to be a squirrel twin, but… close.) The kids were a little worried, since normally I tend to keep a pretty granite poker face; they know that when that calm cracks it means things are Very Bad Indeed.
Anyway, I am recovering, and there are good things. Like the ebooks of my Beauty & the Beast retelling, Rose & Thunder, being on sale for the month of August. (You get about 28% off the regular price.) Also, I may be writing some more romances to keep the wolf from the door, but that's good because I have a couple stories that fit that treatment perfectly and the editor interested in them is a gem.
The saving grace of the last week and a half has been my subscribers and patrons. That trickle of monthly support provides a thin cushion I'm ever grateful for, and means I can write still more for their delectation. It's a virtuous circle–I produce better and more when I can sleep at night instead of lying awake in the darkness, my heart pounding, worrying about losing the house.
Funny how that works.
Anyway, I've this week's fiction offerings to put together, and as soon as the cover for Incorruptible lands, the finishing touches can be put on September's release and I can start thinking about November. Not quite sure if I'll have anything finished and prepped by then, but hope springs eternal. I have a rather punishing publication schedule.1 A lot will depend on if publishers decide to snap up one or two projects my agent is making the rounds with.
I like self-publishing, but it would be a relief to outsource some of the brute work–formatting, listing for sale, editing–to a company that has deeper pockets and more labor than my own small, sweet self. A vacation's out of the question, but a break, now that would be nice.
But today there's coffee to finish, subscription stuff to get up, dogs to walk, a kitchen to clean, and maybe some laundry to do. The fun never ends chez Saintcrow, and I suppose I'd better like it, since it won't change anytime soon. Making a virtue out of necessity is a writer's survival strategy.
Over and out.