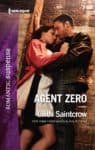 I'm contemplating going back into category romance for a while. I like writing them–the very narrow strictures mean one has to be extremely creative and I'm at my best when there are rules to subvert. I might even extend the Viral Agents series with Project Psyche.
Another thing I like about working categories is that Harlequin pays on time. There's never been a problem with them meeting their end of the financial contract, unlike some other trad publishers I could name.
Mostly, though, I want to write a few things that please me. I'm exhausted by Afterwar and the cold reception my warnings received, as well as a few other things. If people don't want the meaty, gritty stuff unfiltered, fine. I'll put the meat and grit in other forms and serve it with a smile.
Not to put too fine a point on it, I'd love to tell a few stories that have unalloyed happy endings, too. They do exist, and right now they're at the front of the line, having waited patiently for several years.
Often, I sense the stories that want to be told in a line out my office door. They shift slightly, cough politely, and wait their turn. The line's fluid; some are beckoned out early and some move forward only to halt when an insoluble problem appears, some plow through all other waiting before them and run through me at high speed, leaving everyone gasping.
It's like that scene in Ghost with the ghosts lining up to hop into Whoopi Goldberg.
Anyway, it's a Thursday, there's a run to accomplish, the dogs are frisky with wanting their own exercise, and I have coffee to absorb before anything else is even possible. HOOD's Season Two just passed 40k words yesterday, too. It's going to be a long weekend, and one of the few bright spots is going to be time I can use for putting stories together inside my head while my body is otherwise occupied.
At least it's a cloudy morning, so I won't expire of heatstroke the moment I step out the door. Small mercies, my friends.
Onward to Romancelandia, my friends. Over and out.