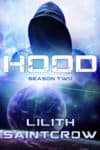 I finally have coffee this morning, no thanks to the dogs. Now I just have to wait for it to cool to a drinkable temperature.
It's always something.
I spent the weekend doing housework and watching Buzzfeed Unsolved videos. (I like the true crime ones; life is always, always weirder than fiction.) It was pleasant to stay away from the news, though I made the mistake of looking Sunday morning.
The murderous carnival continues, piping merrily down the road to fascist hell.
Anyway, Season Two of HOOD starts this week. I'm going to try to get everything done in two seasons for this serial, but there's no promises–there's the Fête and then the Rescue, and they might need a season apiece. After that, unless a publisher buys it, we'll start Rook and Rose, the first book of which is Hell's Acre.
That's the plan, at least. Things are all up in the air here. It would be nice if a Certain Publisher would pay me what they owe; that way I could get the bank holding the mortgage in a fractionally better mood. Writers get it from every end, from theft of our work by piracy or plagiarism to credit woes because we're basically freelancers. If we don't pay our bills we suffer consequences, but if publishers/distributors don't pay us we have little recourse unless we're already wealthy enough to afford legal representation. It's a shitshow, frankly, and though I've hustled to keep body and soul (and children and dogs) together for multiple years now I'm beginning to get a bit tired.
Just a bit.
In any case, I have plenty of cardamom in my coffee, everyone here at least has their health, and I have more work coming out. I even started writing a story last night, longhand in a spiral notebook as if I was still in high school. It may want to be written entirely that way, which means it'll already be half-revised by the time the zero's done, since I'll have to type it from the handwritten pages. That will be interesting, I've rarely had a book come out that way before. Much of Rattlesnake Wind was written that way, and some of She Wolf and Cub. The lucky book choosing to come out that way this particular time is Memory Game, where a woman wakes up in a hospital bed and doesn't know who she is.
I need to research trauma amnesia now. Hm.
Anyway, best to keep it sharklike–keep swimming or I'll drown, and wear a big smile. At least there's coffee, and I can worry about the stack of paperwork on my desk later.
Over and out.