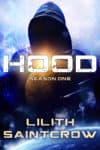 The weekend was long. Not temporally, but I had two very emotional discussions I was braced for and then stumbled into a third. Which put paid to any ideas I had about working or mopping the kitchen, let me tell you.
Of course, mopping really doesn't interest me, and I try to avoid it whenever I can, but that's not the point.
Anyway, I need a weekend to recover from the weekend, as usual, and will not get one, also as usual. It's time to get a few more projects moving along the line. I should revise Incorruptible, get Season 2 of HOOD even more underway, and I think Sons of Ymre is the next zero I'm going to finish. It occurs to me that I need to make one of the protagonists in the last a little less sweet and a lot more menacing to get the effect I really want, but that can be braided in later.
I want to get Lightning Bound and Hell's Acre off my plate in the next few months, too. It might not happen–I consistently bite off more than I can chew near the end of June, because sunlight drives me just as mad as it does everyone else–but it would be nice. Both of those projects have trilogy structures, so we'll see, though I might just write the first Lightning book and float it as a trial balloon. Hell's Acre might do for a serial, for those who like steampunk-y things.1
I did read Lyndsay Faye's Jane Steele over the weekend; retellings of Jane Eyre are so completely my jam it's not even funny. I'm also working on The Rise of Germany and looking forward to the third in that trilogy once it's released. I still prefer studying the Eastern Front, but I've reached the point where only increasingly recondite studies are being published, so I might as well branch out.
In any case, there's a run to get in before the sunshine makes everyone even madder than usual, but before that I have to get the rest of my coffee down. Sequencing, as my ex used to say with a twinkle in his eye, is so important.
Have a good Monday, my dears. Or at least, let's kill only who we absolutely must.2
Over and out.
I have often remarked that steampunk is an aesthetic, not properly a genre, but that's neither here nor there.