That's right, folks–Season One of HOOD is now available! Robin Hood–IN SPACE!
---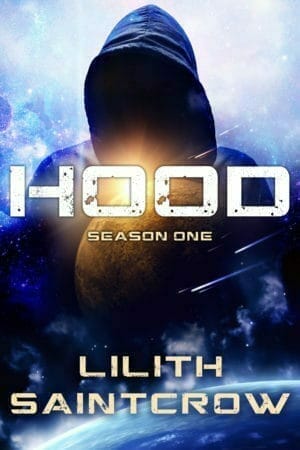 The Great Migration was centuries ago; two generation ships reached the Anglene galaxy with its clutch of terraform-suitable planets and performed their work.
Anglene is smoldering. The galactic insurrection is supposed to be crushed. Robbhan Locke, a Second Echelon soldier, has returned to his birth planet along with other veterans, finding Sharl Notheim holding all of Saggitarius in his mailed fist for Parl Jun the Regent.
There's no redemption in homecoming. Even Marah Madán and Ged Gizabón, Robb's childhood friends, have been forced into accommodation. The Sharl won't stop squeezing until he's made maximum profit for his royal patron–and covered up all his wartime indiscretions.
Heroes aren't needed here, but even a damaged man can fight…
Available in e-edition direct (.epub and .mobi for Kindle users), through Amazon or Kobo; paper edition available through Barnes & Noble, Powell's, independent bookstores, or Amazon.
You can also download a free sample–the first few chapters, in .mobi, .epub, or PDF format!
---
You can also read a little bit about the genesis of the story here. It's been a long strange road, and I've got so much more to tell you, my friends. There's going to be a race, a heist or three, betrayals, and ballroom dancing, not to mention murder, intrigue, and quite a few lucky shots. I hope you enjoy Season One, and in August Season Two starts with somewhat of a bang–or the aftereffects of one.
But for today, I've release-day nerves to fret with, a bunch of housework I've put off to address, and dogs to amuse. I'm swamped.
Over and out.