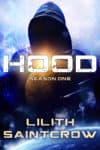 Just a reminder: you can still download the first few chapters of HOOD: Season One for absolutely free.1 So if you want to see if Robin Hood in Space is to your tastes, this is a good way to find out!
Mornings here have been nice and grey, the marine layer shielding us from the worst heat. Of course, that means the humidity's been through the roof, but at least it hasn't been hot and feeling like the inside of Mother Nature's mouth.2 The dogs are puzzled, but I explained to Miss B that this is what summers used to be like back before climate change accelerated.
Boxnoggin, of course, is absolutely surprised by everything the moment he steps outside. Rain, insects, wind touching his rump–it's all a cavalcade of new sensations every damn time. He's like a goldfish swimming circuits past a castle decoration and thinking it's a new one every time. ("Look, Benny, we're on the Rhine!")
Yesterday I sent a sample of Hell's Acre to my agent. So if a publisher wants Assassin's Creed crossed with Da Vinci Code in an alt-Victorian London, they'd better get on the stick. I'm so tired of trad publishing saying "write the entire series, then give us the first book and in six months we might condescend to look at it."3 That makes one book pulled from submission (Incorruptible), one full book out (Reader's Shadow), and two samples (Sons of Ymre and Hell's Acre) out in the world. I haven't had this few works on submission in ages; it feels almost like a vacation.
Of all of them, I'm most worried about Reader's Shadow because the protagonists are teens. I don't want to set a toe in YA publishing again; twice was enough and both Harmony and Rattlesnake Wind are doing well without having the "YA" imprimatur. Sure, I'd love it if those books could get to the teens who need them, but going through a bunch of people who want me to water them down so some Bible-belt evangelical doesn't get their panties in a wad takes time and effort I'd rather spend on writing new books.
Anyway, I think for a little while I'm going to concentrate on the serial and samples. I'm tired of a lot of things in publishing, and glad that my career is at a stage where hybridization is a possibility. You'd think the publishing industry would understand that without writers they don't have jobs or profits, but we're treated like embarrassing afterthoughts and hated stepchildren. Which sucks because I like trad publishing; I like not having to deal with plenty of the minutiae of producing a reasonable printed product. I'm an easy audience, and trad seems set on driving me away.
In any case, none of that changes the fact that I've work to do. Today is slated for a chapter in HOOD's Season Two, a chapter in Sons of Ymre, and making baked pasta with yesterday's homemade red sauce.
My dance card's packed, and the dogs are very excited at the prospect of walkies. First, though, it's time for a run. Hopefully by now the cereal and coffee are resigned to their fate and will not attempt a high-speed escape.
It's the little things. Over and out!
And sign up for my newsletter if you feel like it, though that's not required to get the freebie, because I hate that shit.