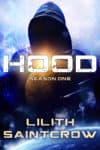 It was an exciting weekend! Dog washing, camping (for kids, not for me; I don't do non-indoor plumbing), putting in swag hooks without a 5/8ths drill bit–the list goes on and on. Also, the end of the month is fast approaching, which means HOOD's Season One is about to go live.
Interested? You can download a free sample here–where you can also sign up for my newsletter if it pleases you, but you don't have to. Of course, the subscribers who have been funding the series get the unedited and final season ebooks for free. You can also read a little bit more about the genesis of the serial.
A band of rain moved overhead earlier, which is all to the good–after the last few fire seasons, we need all the moisture we can get. The Princess and her camping buddies, returned to civilization, are making chocolate-chip pancakes while waiting for the bacon to finish cooking. All in all it's a quiet summer morning.
I wonder what I'll do when the Prince has finally graduated high school and there's no more long summer hiatus. I'll probably have a good long cry or two the first few times he has to skedaddle for work instead of lazing about, and the dogs will be extremely puzzled.
I had a long post planned today, but I'm aching to get out the door as soon as my coffee settles. I mean, I love caffeine, but spewing it through my nose as my body decides any shaking means an explosion is not the preferred method of absorption.
Even this early on a Monday I hear strange sounds from one of the neighbors' houses, like billiard balls clicking. Maybe someone has a table and is practicing their shots. I don't hear any voices, either bemoaning a bad break or celebrating a good one, so perhaps someone's meditating through the movement.
It makes me long to get a stand for my heavy bag; instead of hearing the clicking I could be pounding away my frustrations one punch at a time. Ah well. To each their own.
Today I write Robin Hood taking over a small band of thieves, hackers, and enforcers. I might even write Maid Marian's receiving of a few secret messages. Season Two is where we start finding out nobody is who we think they are.
Of course, in real life, nobody is who you think they are either. People surprise one all the damn time.
Meh. I think it's possible my stomach might retain the coffee I've poured in it despite some hard jouncing and shuddering. Which means it's time to throw my hair in a ponytail and get out the door.
I wish you a cool and pleasant Monday in the shade, my friends. Go easy on yourselves, it's getting rough out there.