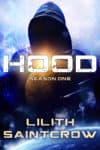 I'm a little excited, my dear little sparrows. HOOD's Season One comes out next Tuesday (you can download a free teaser here) and I'm trying some new things with distribution and marketing, so we'll see how that works out. It'll be nice to have the first season off my plate, since I'm already 30K into the second. I think I can get this done in two seasons, and if publishers don't snap up Hell's Acre I'll do that as the next one. (Considering Season 2 is going to be long, though, there's plenty of time. For once.)
I'm also revising Incorruptible, which will probably drop in September. There's other releases scheduled around then, but none under my real name. (Yes, I know you'll all want details. As soon as I can disclose them I will, not a second before or after.)
Today, however, Serial Time subscribers (on Gumroad or Patreon) get the final ebook for HOOD: Season One way before anyone else does. It's a tiny thank-you for their support. That small, consistent support means I can plan around several vagaries of daily life and publishing, which means the rest of you get more to read. So, thank you, subscribers! All my other readers owe subscribers a vote of thanks as well, because the books resulting from that support go out into the world.
New release stress is pleasant (mostly), but it's still…well, stress, and added to the illness of a dear friend and a few other woes, I'm feeling rather in the low end of the pool lately. Work is the only panacea, even if one has to swim against the current of imposter syndrome.
In short, I'm a little tender-skinned. Summer is hardly my favorite time, though by all rights it should be–it's when the kids are home from school (though the Princess is out of school and working by now) and work dials back a bit. You'd think I'd enjoy it, but I find myself longing for autumn and the rains.
I always work better when it's raining.
I suppose there's nothing to do but stick to the plan. It's never comfortable when one's brain decides to try killing its container, but like any villain, it can be outwitted. Having an adversarial relationship with one's own brain isn't the recommended way to get through life, but one works with what one has.
Anyway, I'd best get a run in before the heat makes everything unbearable. Despite my current bleak mood, I am excited for Robb, Marah, Giz, and the gang to make their debut. It's just that the excitement is trapped in Thunderdome with a particular brand of anxiety-laced depression.
I can't decide if I'm Max or Auntie. I suppose I just have to wait to see what happens.
Time to get punching on Thursday, chickadees. Over and out.