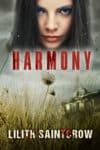 It was a long strange weekend, but at least I got all the housecleaning done. And thanks to the fireworks ban, both the dogs and I were quite calm all the way through. There was artillery in the distance, certainly, but we didn't have any mortars popping near the house, which I am devoutly grateful for.
Also, I've been experimenting with BookFunnel. The first half-dozen or so chapters of Harmony are available for free download here; when HOOD gets its wrap cover and begins wending its way through the last quarter of the publication process there will be a free teaser for it as well. I might put some other freebies up, just to see how they do and if they drive interests to other titles. Might even put up a Freebies & Swag page, but I need to think carefully about whether or not I want the deluge of entitled demands it might spark.
I also spent the weekend polishing off a few books–reading, not writing. The Coldest Winter and The Coldest City, as well as a graphic novel adaptation of The King in Yellow, kept me occupied for an afternoon; I also finished James Holland's The Rise of Germany and polished off two Christine Feehan novels. The last are like crack, I can't read just one, kind of like Shannon McKenna novels. Now I'm on to a history of the Byzantine state, which is filling certain lacunae in my understanding of just how things were administered in the late Roman empire.
What I wanted was to get a few more chapters of Season Two done, but the Glorious Fourth and associated disruptions put paid to that little dream. But I got the revised cover list off to the artist, and there's plenty of time for everything that needs to get done for the next couple books.
I've spent a lot of time these past few days thinking about growing up, logistics, rain, how to get a prince back to his homeland, whether or not I want to write The Highlands War, whether or not I truly want to write Hell Tide, how I'm going to get Maid Marian dancing with Prince John, genetic plasticity, and a whole host of other things I'd put on hold to think about after HOOD's Season One was sorted. Now all those things have come back to roost and I must give each the time they demand, from a few moments' worth to a day or so of concentrated thought while the rest of me goes about the business of living.
It's a form of mental housekeeping. Plenty of writing is keeping the creative cauldron bubbling at a certain pressure so the steam moves everything through one's internal tubes. Weird facts, historical narratives, tangential fiction–all these things are fuel. So is the habit of observation when I have to leave the house, storing up notes on how these human creatures behave.
Can't write what you don't understand or observe. It's probably the only use of my over-sensitive empathy that won't drain me to transparency and leave me day-drinking. (Of course, I can't drink without getting hives now anyway, but you know what I mean.)
In any case, today is for getting a needle back in the groove of work. There's Incorruptible to revise and HOOD's Season Two to pile bricks for, and Hell's Acre to think about. I'm pretty sure the last will be the next serial, which will be super fun to write. I always did like steampunk.
I hope your weekend was pleasant, dear readers, and that there was a paucity of artillery in your neck of the woods as well. I've got a bellydancing bagpiper to listen to while I write, and honestly, since my coffee is staying down, I really can't imagine anything better.
Over and out.