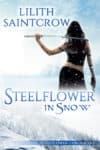 Ever have one of those days where nothing goes wrong for you, precisely, but everyone around you keeps getting packets of bad luck?
Yeah. Like that. Friday came along with terrible news, kept going through car trouble, and ended with me having to stop a teenage bigot from vomiting hatred-harassment, so by the time I got home I was more than ready to throw my purse in a corner and crawl into bed.
I'm finally feeling more like myself again, probably due to the work I did over the weekend. A ticklish scene in HOOD's Season Two gave me the answer to a plot problem I had heretofore only trusted would end up fixed eventually (my faith in the Muse knows very little bounds) and I got all sorts of stuff done in Tower of Yden. It was like a mini-vacation, writing exactly what I wanted, and since I ruthlessly closed my doors and was unavailable for anything else, a good deal of housecleaning got done too.
Normally my weekends take a few days to recover from, since I tend to cram in all sorts of things I can't get to during the working week. But I'm actually feeling almost…rested? Is that the word?
I know, I know. Saying it aloud is a sure way to get hammered sideways by Something Quite Unexpected.
Anyway, today I feel my way through a scene with Robin Hood, Little John, Much the Miller's Son, and Alan-a-dale. I know it's important, and there's a whole tangle of plot and counterplot going on, but I don't quite have the shape of it yet. After I finish poking, it's revisions on Incorruptible, which is lingering at about 60K words and will only get bigger. A truly angelic cover is needed, so it's off to Indigo Chick Designs to look at premades, just to get an idea. (I love all Skyla's covers.)
It's also going to be very warm here today, after a couple weeks of decent (if somewhat humid) weather. I should get my run in early so I don't get laid out in a puddle of hyperventilation and sweat.
In short, I'm somewhat optimistic about the week, despite publishers refusing to pay me. My entire life might explode as a result, but right at this moment nothing's on fire and I can take a breath, so I might as well.
If it does explode, I'll deal with it then. I suppose that's adulthood. I could do without the lingering anxiety, but I suppose nothing is ever perfect.
Stay cool and hydrated out there, chickadees. Catch you tomorrow.