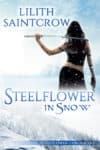 The Princess beat me at resurrecting this morning, so she made me coffee; also, a crow has decided that the gutter right over my office window is the premium perch for keeping an eye on the backyard. I'm most of the way through Holland's The Allies Strike Back, too, though I'll have to grab book one of the trilogy from the library next. I dislike reading history out of order, but there's nothing to be done for it.
Yesterday was pure Monday, ameliorated only by the prospect of waffles for dinner1 and the fact that HOOD really isn't a bad story. When I finished the zero of Season One, I was feeling kind of low and like I wouldn't be able to pull the series off, but now I'm much more sanguine. There's one more revise after this, but first I've got to get through the initial pass. Thankfully, layering in more details and adding things I didn't know when I started writing is the sum of the edits; structurally, the book holds up rather well.
I'm also reading Huckleberry Finn with the Princess. I've halted at the point where the king and duke show up, mostly because that's when the narrative takes a turn and I want all my faculties about me during the Nonesuch and Mary Jane bits. If I have a favorite novel, the honor must go to Jane Eyre, but Huck is definitely in the top five2. One of the best school papers I ever wrote was a monstrous (somewhere around twenty pages, single-spaced, typed on a balky old manual typewriter) examination of the Mississippi as a symbol. I'm sure the teachers were not at all prepared for what they got, but I'd found a list purporting to be the right way to write college essays and followed it to the letter. Not only did I approach every damn thing the list said, I threw in all the alternatives they had listed under the main paragraph idea breakdowns.
I was a real joy to teach, I'm sure. But I got an A on that fucking paper.
This particular critical edition has the raftsmen's scene in it, and I can see why Twain (or his editor) excised it; I can also see why Twain would want it in. And of course the breathless racism is jarring. Every time I read the n-word it's like a punch to the gut, and while I still admire the scene where Huck says, "All right, then, I'll go to hell,"3 it doesn't work unless Huck absolutely believes that the right thing to do is to turn Jim in. Even the right decision is suspect and provisional in a racist culture, and it's sobering to unpick the logical consequences and knock-on effects.
And to see how little has changed since Twain wrote in the aftermath of the Civil War. I don't quite see Huck as an answer to the war, though. Twain was struggling with endemic issues much as Dickens did (though with much more humor, it must be said) but the lacunae are huge. It makes one wonder about one's own blind spots, swimming in different (but directly descended) cultural waters.
Or at least, it should, and if it doesn't you should make it.
I tend not to halt to allow fellow readers to catch up while book-clubbing. Instead, I swallow the book whole, and if my fellow clubbers fall behind I go back and read certain bits to keep my memory fresh. So we'll see how it goes. The Princess has the same edition I do, and wants to read critically, so it's much slower for her than for me. I have about twenty years' worth of skill she doesn't, but on the other hand, she sees things I don't, so I'm really looking forward to her analysis.
For a little while, after finishing Poison Prince revisions, I crawled into a movie or TV show at the end of the day, just stuffing my head with visuals to get my brain to stop chewing at itself. Now I'm in the secondary phase of recovery, where I'm stuffing text in; I'm crawling to the couch with a book instead. The kids are somewhat downcast, because watching movies with Mum is apparently pretty hilarious, but they'll bring their Switches out and play quietly while I read, and every once in a while someone will say something amusing and we'll all laugh. It's a lovely way to spend an evening.
I just have to get a full day's work in before I can get there, which means I need to get out the damn door and run. Breakfast hasn't quite settled but at least I'm pretty sure I won't lose my coffee if I head out, and that's the important thing.
Over and out, my dears.
Which is one reason the Pemberton in The Demon's Librarian chose that particular book to get shirty about.