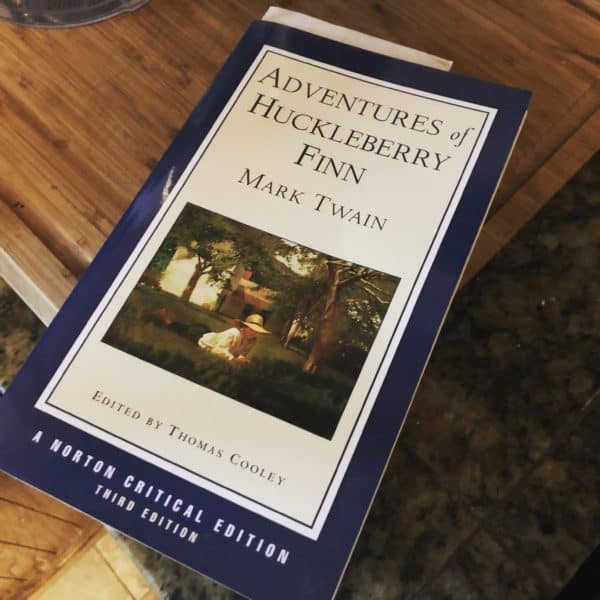 If I keep leaving this on the kitchen counter it's going to get splattered. But there's nothing like being able to pick up a book while cooking. (Long-term Readers will remember the Princess and I are book-clubbing Huck Finn.)
Growing up, my books were held ransom. The adults would take them, especially if I was so foolish as to leave them anywhere but hidden under my bed, and then I'd be hit with a hardback or they'd ripe up a paperback or just throw it away. For people who complained about how much things cost, they were certainly flagrant with their abuse of bound wood pulp. I spent any money I could get from babysitting, infrequent allowance, or any other work I could pick up on books, and I became adept at hiding what mattered to me–but I suppose since it was my money, they didn't mind wasting it.
And I learned to love libraries, because they wouldn't tear up or throw away a library book. Their fear of the library policeman must have been much greater than their fear of being caught abusing me.
Go figure.
Anyway, the joy and glory of having my own house is that I can have books everywhere and anywhere, and they stay where I put them. Nobody rips them up or throws them away. My books are safe here. I've even, thanks to the internet, replaced no few editions that fell prey to those horrid people.
I am so glad to be an adult now. You couldn't get me to return to my teenage years–or even childhood–if you paid me.
I wish you a lovely weekend, dear Readers, and safe places for all your treasured things. Over and out!