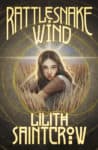 I finished first-draft revisions of The Poison Prince on Saturday, and spent the rest of the weekend almost nonverbal and staring. I was afraid I'd busted my word-makers, because Saturday night I pointed at a packet of bread and could not, for the life of me, figure out what the motherfucker was called. The kids stepped in, of course, and were highly amused at having to do so. I felt like a three-year-old, pointing and making helpless sounds until someone supplied the word.
It's much better now, though I found myself staring at the plastic bin I keep my morning gruel mix in (thank you, Bob's Red Mill, for being awesome) and thinking, milk bits? No, that's not it…plant bits? Ground-up…Wheaties…what the fuck?, before I finally got to "SEVEN GRAIN CEREAL WITH FLAXSEED," which I bellowed loudly enough (in tones of complete triumph) to give both dogs somewhat of a turn.
At least I knew what to call coffee. Whether it's "java" or "precious life-giving fluid that makes the murder retreat," it's named correctly, amen and thank you.
So Poison Prince is safely with the editor, and I can return to HOOD. I'm not going to push myself too hard today, since I'm out of the office (and consequently not answering anything even remotely close to work emails or calls) through tomorrow, I figure I'll just poke at Season Two and also poke around to see what I want to finish next. There's the storm-god-and-the-witch tale, or the sort-of-Assassin's-Creed Victorian one, or the profiler-and-the-codependent, or the vampire reaper. It's the last that interests me the most. I've been writing healers for a while, it feels like I need to go back to kickass bitches, and there's not much more kickass than the woman they call in for supernatural law enforcement. I'm fascinated by the thought of what a society of near-immortals would consider as consisting of law enforcement or capital punishment, and how they would treat the members responsible for dispensing such.
Like, what happens when you're a relatively young superhuman thing, who remembers your human days but are so gifted you've been tapped to basically commit state-sanctioned murder on a regular basis? What would that do to a person? What kind of person would survive that, and how would they get through it–especially if they run across something or someone most of their society would kill to own? Like, say, a young kid with the power to let a Reaper walk in the daylight?
It might not go anywhere, but it's been a while since I wrote a protector instead of a healer, and I think I'd like to do it again. I'd have to put some deep thought into the rules of the world, especially the engagement with mortal beings. Which sounds like a pleasant way to spend my days off, along with reading.
I finished Max Hasting's Vietnam: An Epic Tragedy over the weekend, which focused largely on the American experience. Then again, the subtitle makes it clear it's 1945-1975, and America was the elephant stamping around most during that time, and Hastings is clear upon the point that Vietnamese archives and other primary sources are beyond the reach of most if not all Western scholars, so there are good reasons for the lacunae. Still, my heart aches.
In any case, it's a warm morning, and I've got to get out before it gets worse. At least I have a little time to breath before the next project heats up. I can almost feel the wrapping going back onto my exposed nerves; pushing myself at white heat for two projects in a row will only be a choice worth castigating myself for if I don't pay attention to recovery time.
Remember to treat yourself gently between projects, my dears. It saves you from lost time and crappy creative choices down the road, an outcome devoutly to be wished for. And, now that I've given you that advice, I'm going to go try and take it myself.
Over and out.