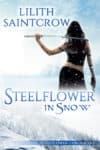 This morning, I was in a bit of a mood. Out the door with two fractious dogs into cold rain, one dog unfazed and the other wanting to pull ahead to finish the damn deed so he could go home and dry off, my patience was all but exhausted.
And yet, while my feet pound and my breath comes high and hard, I realize, this is not who I want to be. The irritation falls away; I leave it like a discarded skin and run into the future of who I do want to be.
---
Years ago, the stark grief of a broken heart pushed me further, faster. I ran until I couldn't, without dog, bee, or any other companion, and when I stopped and closed my eyes, all that touched me was sunshine, dust, and the knowledge that I had done what was necessary. It still hurt.
It hurt.
And yet, when I opened my eyes, there was nothing to do but keep moving. I had to get home, after all. Sitting in the middle of a street and waiting for the rest of my life is not who I want to be.
So I chose differently. And kept going.
---
I began running because it was something I could do on a treadmill in the solarium. A single mother can't leave her babies unprotected; besides, my body had become a stranger. I ran at first because it was the best of several bad options, then I kept running because the endorphins had me hooked, then I ran because it had become a habit.
Now I run because it soothes me, because it is still the only time I have to be truly alone. Despite the company of dogs, it is while running that my soul expands a little. The rest of the world falls away and I can see who I've been, and more importantly, who I want to be.
---
Irritated? I write. Happy? I write. Sad? I write. I do it because it's what I was meant and made for, what I was designed to do. I am helpless to stop writing.
But running is a choice. The static vanishes. Physical motion, the thunder of my pulse, dripping sweat–all reminders that I can choose. There is only an inch allotted to us, a small, separate piece caught in the net of circumstance, privilege, physics, and obligation. They can take every inch of me–they have certainly tried, all my life–but one.
That small piece keeps me human. It is the part where I choose.
---
The dogs don't like it when I run alone. Boxnoggin is protective; Miss B simply thinks it's her duty to crawl under my skin and stay there. It doesn't happen often, but sometimes, whether because of injury, weather, or other considerations, I find myself solitary.
I am alone, but I am never lonely while that small inch of me remains.
---
B slows near the end of even short runs now. She doesn't want to, but she is becoming elderly, and her body does not do as she wishes. It doesn't matter. Speed isn't the issue. Looking down and seeing her grin as she paces me, in her accustomed place and all right with her world despite our slowness, fills me with aching love. I have so little time left with her; I slow as much as she needs.
Boxnoggin doesn't quite have the rhythm down yet. He's young, and though it's been months, he learns at his own pace. Above all, he wants to protect his pack; the constant changing of our route during runs to make it easy for him to behave and get accustomed to the fact that when I need him to snap or growl I'll let him know takes a lot of bandwidth. Still, we persevere. Eventually he'll learn, and I will have become the person who gave him the space for that teaching to sink in.
---
When I was a child, my primary female caregiver wanted me to become a doctor. It was her own unfinished dream, and I was responsible for seeing it through. The knowledge loomed on the horizon like a mountain at the end of a sea journey, just a smear at first and for a long time neither larger nor smaller no matter how fast one sails. Suddenly, it begins to grow, and the shadow of expectation pressed on me from crown to soles. I couldn't breathe.
I chose passive resistance to her dreams all my young life. But when I left that house, I had no idea how to find out what I wanted to be–or even who I was. I've spent decades trying to unravel the mystery, making false starts, drowning in other people's needs, pouring myself into black holes, lighting myself on fire to keep others warm.
And then I began to run.
---
"I can tell you haven't run today," the kids say.
"I can tell you haven't run today," my writing partner says.
I can tell I haven't run that day, and I close my eyes, imagine my feet hitting pavement and the wind making that low sweet sound in my ears. Even when I don't run I can choose who I want to be. Running only reminds me. It shakes me, and while everything is whirling inside my skin I realize there are some things nailed down, some handholds I can trust on my internal cliff-face.
There is a me who can decide. I just have to give her an inch.
---
Today it was raining. The dogs were both tetchy, their fidgets not quite worked out yesterday. It took twenty damn minutes for the red cloud of irritation around me to blow away. Both beasts needed constant reminding and redirecting. Before I snapped, I took a deep breath, slowed my pace, untangled both of them, and swallowed the unkind things I might have muttered at their poor, silly, excited selves.
Unkind is not who I want to be.
The carapace falls away and I am damp and new, slowing to a walk and petting the canines who depend upon me. I tell them they are good, and they believe me. Sometimes–not very often–I slow enough to listen to them tell me I am good, and I try to believe them, too.
We walk home. Because we choose to.
---
I have kept a single inch to myself, one thing I have never mortgaged, sold, smothered to please someone else. I have fed others from my broken body and kept a single crust from the feast despite those who tell me it is selfish treachery to avoid subsuming myself completely. The world is hungry, abusers are famished; they will take even that last inch and leave for other tables while your bones rot.
I hid that inch so successfully it took running to find it again. And, over and over again, it expands to fill me while I write.
Running doesn't fill me. It strips away the noise, the constant pressure, the weight of people who sold their inch or never found it, who want to crack my bones and eat my marrow to fill their own unending hunger where that small space used to be.
I learn, over and over again, that I choose who and what I am. There is an inch of me beyond reach, a table in the presence of mine enemies, and every time I lace up and buckle the dogs in, reach the end of warmup and pitch forward to take the first few steps into the uncertain future, I realize again that I am not lonely.
How can I be, while I run?