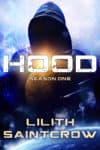 5k on The Poison Prince yesterday, and I can see the shape of the end. All I have to do now is hang on long enough, and it will sort itself out. It's 85k of epic fantasy, and will only get bigger through the publication process. For right now, though, it's all mine, and all on me.
I did get to play ES Posthumus's Kalki several times and write a particular chase scene I've had in my head since the series started. So that was pretty awesome. I had to stop before I was absolutely exhausted and done-in for the day, giving myself enough candle to burn today, and I resented every moment of having to feed myself and sleep when what I'd rather be doing is writing, but that's a given when I get so close to the end of a project. Especially a HUGE one like this.
The third book is going to kick my ass, I can tell. But between then and now, I need to finish the zero of this one, and the zero fo HOOD's Season One too. After those two zeroes are in the can and marinating, I can take a look around and think about what I want to do next. Probably Dolls, though I want to write a high fantasy epic with dragonriders and do it right.
What I don't want to do is write The Highlands War, which was next on the list. Most people have been exceedingly lovely about the format choices for Kaia's stories, but there's always the bad apples. It will happen if it's meant to, I suppose.
I feel like I've always been writing Poison Prince, like there's never been a day I've not been writing it, and like I will be writing it for-fucking-ever, world without end, amen. Every novel is an endurance race, this one's just…longer. If I stay stubborn enough, I'll eventually get there.
…it occurred to me I have Harmony and Incorruptible to revise, so maybe I'll do that while the zeroes are marinating and push off the decision about a fresh new world to play in for a little while longer. Getting more work out and before the eyes of the ravenous public would certainly feel better than this hack-slash-cut at a book that refuses to die no matter how many times I stab.
Five more scenes at bare minimum, then I can be done with Poison Prince. I'll love the book again, probably in revision when I come across bits I don't remember writing. But for right now it's just one more enemy to slay.
I'm ready. I think. I mean, I suppose.
*buckles on goggles*
*the goggles do nothing*