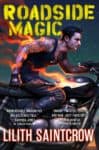 April was difficult. Between recovering from several birthdays, late celebrations of said birthdays, freaking out over approaching epic fantasy deadline, and worrying about everything under the sun, it's a wonder I didn't lose what little sanity remains to me.
I did wake up today with Jody Watley and Glenn Campbell duking it out inside my earworm space, so at least there's that. And I have, courtesy of a bead show, some new chandeliers to try earring designs with.
There's also this beautiful lady:
Her name is Madge. I did some work for Dee's Darlings, and Madge decided to come work for me for a bit as a thank-you. She is adorable and gets along well with Veronica and Isabelle. (You've met Veronica the Office Oracle, Isabelle is…difficult to explain. Maybe later this week.) Veronica in particular is happy to have an amanuensis, though Madge's shorthand is impossible for anyone but her to read.
Veronica: CHICKEN SCRATCHES. AND I'VE NEVER SEEN A CHICKEN.
Madge: YOU CALL IT SCRATCHES, I CALL IT JOB SECURITY.
Isabelle: YOU TWO AREN'T FIGHTING, ARE YOU? WE ALL NEED TO GET ALONG.
Veronica: NOBODY'S FIGHTING, IZZIE.
Madge: *scribbles furiously*
Isabelle: ARE YOU SURE? BECAUSE I COULD BRING YOU SOME FISH–
Madge and Veronica, in tandem: NO FISH.
…yeah, things have been interesting around here lately. I should tell you guys about Clarence the Squirrel. It's more of a title than an actual name, because Clarence is "the squirrel what's actually got the peanut, you see," and dinner hour a la Chez Saintcrow has gotten really strange since the kids love to put out a handful of peanuts while we eat, then wait for developments.
Anyway, the Clarence is the mug what's got the peanut, and Ralph and Jeff are the mugs what don't, and the deck has become the scene of a dinnertime drama almost Lynchian in its feverish intensity. (I almost made a Blue Velvet ether-sniffing joke the other night and caught myself just in time.) Clarence constantly wishes to keep their find from Jeff and Ralph, and the instant one of those picks up a peanut they become Clarence. (It's kind of like Olsen Twins, who, being older no longer vibrates at such a high frequency.) Jeff and Ralph usually team up against the Clarence, and once a squirrel loses a peanut they become a Jeff or Ralph.
Understand? Good, because I didn't for days and the kids had a sort of "Who's on first" routine they were running. And poor me, with my head stuffed full of preindustrial technology and travel times, not to mention worrying about the damn mortgage, didn't quite catch up with the train for a bit.
Parenthood, man. It never stops being a complete and total trip.
I even got some gardening done this weekend, which only brought home how much more there is to do. Maybe I'll just grow nasturtiums this year instead of turning over the veggie garden.
In any case, it's time for a run, and if I play my cards right, I can finish the zero of The Poison Prince this week. It would be nice to get that corpse on the table so it can be revision time instead of "I keep stabbing this book and it won't DIE" time. Of course once I do, it's time to get the zero of HOOD's Season One out. Then there's revisions on Harmony, and and and…
…so, just as usual, my chickadees, I bid you a fond farewell until tomorrow, and vanish, cackling, in a cloud of scented smoke.