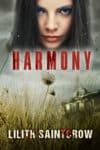 Seems like May has one or two nasty surprises left for me, but by the goddamn power of Greyskull and caffeine, I shall prevail.
If you're looking for the newest book, check out the Harmony page. You'll find an updated listing of where to buy it. I also have a surprise coming in June, so that'll be nice.
It's a cloudy morning and I have to get out before the sun burns off the marine layer. Getting heatstruck robs me of several days' worth of working time, and the dogs aren't fond of too much sun either. Oh sure, they'll bask–but Boxnoggin has such a slick dark coat, he soaks up heat like a sponge. B's undercoat traps air and keeps her relatively cool, but still, it can only do so much.
Anyway, I am lingering to tell you about something that happened this morning. And yes, it involves an arboreal rodent.
Picture your lovely Narrator, pre-caffeinated and blinking, taking the dogs out for their post-sleep unloading of bladder, bowels, and any other passage that requires it. They rocketed down the stairs into the yard, I stayed on the deck and tried to achieve consciousness through the fog that is Before Coffee. I heard a faint scratching but ignored it, all my attention on the fuzzy little assholes choosing just the perfect spot to evacuate.
It wasn't until Boxnoggin paused in the middle of the yard, one paw lifted (he is a very catlike dog) and stared up at the deck that a vague unease penetrated my usual morning stupor. I thought he was looking at me for direction, and beckoned him to come up the damn stairs for breakfast.
Then I realized he wasn't looking at me. Well, he kind of was, but mostly, he was looking past me, and up. And up, and up.
I heard that faint skritch-skritch again, and turned with the slowness of a woman suspecting a nightmare.
There, perched upon my roof, was a squirrel. She was a big bitch too–I say bitch partly with admiration, for reasons you, dear Reader, will soon discover and partly because it's technically correct1.
She had her head turned sideways, watching me with a prey animal's peripheral vision, and I stared for a few seconds, my brain struggling to catch up. Finally, I gathered my wits, and said, "Good morning."
Look, I was perfectly polite, especially considering my history with the Knights of the Nut Trees. Unfortunately, I think Lady Barda–for so I have christened this fine dame–was a bit startled at being greeted directly, because she took off across the roof to my left with a scrabble of claws and a flick of her tail.
If that had been the entire interaction, we both would have considered ourselves lucky. But Boxnoggin chose that moment to burst into frenzied motion, barking and heading up the deck stairs in a flurry of fur, nails, furiously wagging tail, and INCREDIBLE NOISE.
I think that may be why Big Barda decided the wide open acres of the roof would not provide safety. She'd probably dropped there from one of the firs and was looking for a snack in the gutters–they hide everything in there, the little fuzzy bastards–but she had neglected Rule One of assassinations and squirrel antics:
ALWAYS KNOW YOUR ESCAPE ROUTE.
She didn't have many options–vertical gutterslides, but those are hidden from the roof itself; the chimney, but that's a dead end unless she wants to end up in my fireplace (Christ please no); the apple tree, but that's a big leap even for a flying rodent. And then there was what I realized in retrospect was the only choice.
The rhododendrons.
There are some in front, of course, but she was on the roof's reverse slope, so artillery and the front bushes were safe from her depredations. The two in the back, however, were a long but not impossible leap, and have the added benefit of leaves and flowers to provide cover. When you're startled in the middle of a wide expanse, of course you start running for the treeline.
So she did. She hopped the gutter and pushed off from its far lip, sailed like Supergirl in a graceful arc, and crashed into the biggest of the rhododendrons with an explosion of twig-snapping and flower-shaking.
Squirrel!Barda made the jump, which was great.
Unfortunately, the noise alerted not just Boxnoggin, who turned himself inside out reversing course to scrabble down the stairs he'd just climbed, but also Miss B, who was across the yard and had just finished her morning wee.
In other words, B was feeling considerably lighter, and the noise had warned her of an intruder. She clearly didn't know whether it was fire, flood, or invasion, but her elderly self was certain, in one blinding instant, that she had been called upon to ride to Gondor.
And all I could manage was a faint, "Oh Christ no…" as Boxnoggin reached the foot of the stairs and took the hard right towards the rhodies. B's haunches rose, and she took off like a bullet.
It still might have turned out all right, if not for one small problem.
Barda is a very large squirrel, and that much mass at that much velocity was too much for her chosen landing-branch to take.
TO BE CONTINUED…