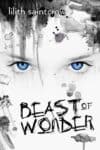 I have Poe's Spanish Doll running inside my head this morning, a stagger-step of nostalgia and loss. The dogs are in fine fettle, especially Boxnoggin, who has taken to rolling over and begging for tummy rubs with the single-minded intensity and desperate cuteness of Oliver Twist asking for some more. He seems to have finally realized he's not going back to the shelter, and it does him a world of good, poor fellow.
He's not going to like running in the rain today, but he's full of fidgets and I am too. If it's any consolation to his dainty-pawed self, it's a short run.
My writing partner gave me a clutch of walnuts, which she dislikes but I happen to love. I even like the faint bitterness of the skins and bits that cling to the brain-folded nut. Plus it's fun to put a couple on the deck railing and watch the squirrels lose their tiny little minds over it. Remember that cartoon with the squirrel and the cocoanut? Much Ado About Nutting. That's pretty much exactly what it looks like when the little bastards stumble across a treasure.
That was one of my ex-husband's favorite cartoons. He had a passion for Buster Keaton too–the little guy who keeps getting bashed by circumstances, especially when he thinks he's on to something good.
I know, it's kind of…well, there was a reason that resonated with him, let's just put it that way.
Anyway, one of the rules of Looney Tunes is that the "villain" or the hapless butt could stop at any time. This is most famously expressed in Chuck Jones's Rules for Writing the Road Runner, which may be apocryphal but is damn insightful anyway.
The coyote could stop at any time. Now, they add, if he were not a fanatic, but that's really gilding the lily. What makes the Road Runner cartoons–and plenty of other Looney Tunes–so funny is that it's true, the pursuer or comic butt could stop at any moment.
They just don't.
The kids and I have been talking about that a lot lately. It's a good thing to halt in a dust cloud every so often, look around, and consider, what could I stop if I wasn't so invested in? The answer may not be what you think.
Yesterday I spent a lot of time thinking about the current project, and came to a number of decisions. A few things I do with my books aren't helpful in the current situation; I need to get out of the way and let my agent take care of a couple problems instead of sitting on them and brooding.
We all know how I love sitting and brooding. *snork*
So, my dear chickadees, I leave you with this question: what could you stop at any time? Are there diminishing returns? Is it a sunk costs fallacy? Is there anything that, when you stopped doing it, you would feel relief and have energy freed up for things you like better?
Notice I'm not saying any action other than thinking is required here. I'm not saying you have to immediately stop chasing your road runners, whatever they are. I'm just saying…think for a minute. Just consider. The option's there, even if you don't want to take it–and sometimes, knowing that an option exists frees up plenty of mental and emotional energy you didn't even know you were pouring into a hole.
I often say I can put up with anything if I know when it's going to stop. Or when I decide at what point I'm going to halt chasing the road runner and just order a bento box from Acme instead.
Now it's time for me to take the dogs on a run. Sure, I could stop that at any time, but tired dogs are well-behaved dogs and I need the exercise. Besides, we took yesterday off, so we're rested and ready (for whatever variety of "ready" we can muster) today.
See you around, friend-os.