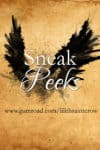 Took a bit of a sabbatical last week, at least from the blog and most social media. It was nice to do some deep breathing and restore my sense of proportion. I keep thinking I can save the world.
The world, however, either doesn't want saving, or the job's just too big for me. The latter isn't so much of a consideration–I take on jobs too large for me all the time–but the former is. You can't save those who want to drown.
The Poison Prince has broken the 60k mark, and I'm beginning to think I can pull this off. There's no reason for the dividing line between books 2 and 3 to be placed exactly where it is; I can slide it back and forth as the need arises. Everyone in this book is talking when I need them to get to the dying.
This is probably a common problem in epic fantasy creation. *snork*
I've been moonlighting with a couple other things–Sons of Ymre, and the other Watcher book. Neither are moving very quickly because I have to fit in wordcount around the big bulk of Prince. I want to be done with this book so badly, it keeps me up at night sometimes. I have to drag myself away from the keyboard, because if I end up pulling all-nighters I'll need longer to recover when I finally get a blade in the bowels of this fucking book and it breathes its last.
*eyes former paragraph* I may be having an adversarial relationship with this bloody book. Anyway.
It's a cloudy morning; hopefully there won't be anyone with unleashed dogs at the park. I'm having to stagger Miss B accompanying me; she's getting to the age where the shorter runs are all she's comfortably capable of. Of course she wants to go on every run, bar none. She would gladly run her heart out if I asked it of her, but I don't ask it. In fact, I actively discourage such a thing, being a cruel and unjust owner who wishes to keep her safe and sound for a few more years.
It was awful to lose Odd Trundles, but the awfulness was somewhat ameliorated by the fact that we expected to lose him at any point, so it wasn't exactly a shock. B, though…when she ascends to the great kibble bowl in the sky, I'm going to be devastated. It's going to hurt worse than just about anything.
All the more reason to take care now while she's with me, and snuggle her a bit more. If I can get her to hold still for it–she's always wriggling free to go play with Boxnoggin. He is somewhat of an elixir of youth for her, their wrestling, yapping, and chasing serving to exercise them both. She's pretty pissed every time he goes on a run alone with me.
Poor Miss B. She just longs to supervise everyone and everything, like the busy little bossy bee she is. Speaking of bees, there are no doubt going to be plenty of them trying to infiltrate my skull. Maybe I should braid my hair to give them more places to cling instead of a ponytail.
Well, that's my morning work cut out for me. I suppose I should get moving.
Over and out…