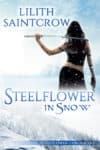 It's Tuesday. I got out early for a run, but there was still someone with their damn dog unleashed. It's like a sickness with these people, every time it's bloody sunny they wander out without properly caring for their dogs. Asshats.
*clears throat* Good morning, all! The mass-market PB size of Steelflower in Snow is now live! (There's a trade paperback edition of The Marked out now, too.) Note that these are the same books; they're just different sizes for your convenience. Due to piracy, there is no ebook version of Steelflower in Snow planned. I'm also having trouble working on The Highlands War for the same reason. Why bother writing more Kaia books if people are just going to steal them?
Also, The Complete Roadtrip Z is now on sale in paperback! It's omnibus time!
If I focus really hard and let go of having to write The Poison Prince in anything approaching linear order, I might even get a zero draft done on time. Might. I know I could just miss the deadline, but I haven't done that in over ten years and I don't want to start now.
I just heaved another sigh, thinking about this. At least I have Jonathan Coulton's new album to get me through the day, and a lunch meeting with a fellow writer. I'm generally the one saying "it's not as bad as you think"; maybe I'll get someone else saying it to me this time around.
…I've nothing very interesting to say. I'm on a Twitter fast for a week or so; I took the app off my phone and have the site blocked during normal working times. It's nice not having the firehose of raw-sewage bad news on all the time; maybe it'll let me work without feeling the world's on fire and why on earth should I bother since we're all going to die except the rich?
And even they will strange on blood when the rest of us are gone.
I suppose I'm in the mood to write dystopia again, but why? Nobody listens. (Bitter? Me? Well…yes, a little.)
Yeah, I suppose I'd best turn off the wireless and work before I have to leave for said lunch meeting. I need my fire back in me, and it's not going to happen if I sit here and think about things going wrong.
Let us band together and kick Tuesday in the pants, my friends. It's the only way out.