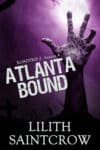 The dogs are nervous. It could be that my own unease this morning is communicating itself, or it could be that they sense a looming disaster. Either way the warning has been heeded. It does no harm to be cautious, to cross one's fingers, to inhale deeply and look an extra time before crossing the street.
Especially since I'm going to be out running with their fuzzy asses.
Today is the day the mass-market paperback of Atlanta Bound goes live. I was thrilled when Vellum decided to start doing different trim sizes and went on a binge of reformatting interiors and getting wrap covers redone. There are more mass-market editions coming:
A trade edition of The Marked is on its way, too. The new editions are not revised, they're simply offered for reader convenience. I tend to prefer mass-market size for a lot of books, but I am by no means in the majority.
Speaking of which, I've been told that the mass-market editions of the Valentine and Kismet series (serieses? Serii?) will be going out of print soon, leaving only the omnibuses. (Omnibi? Heh.) While I'm saddened–I love the mass market covers–I am also resigned.
"Resigned" covers a lot of my feelings lately.
Anyway, The Poison Prince and Season One of HOOD continue apace. Incorruptible and Harmony are still out on submission, though Harmony will be coming home for self-publication very soon unless the publisher gets their act together. I could go off on a tangent about publishers expecting a writer to sit and patiently starve while they hem and haw about taking a book or not, but that would be ungraceful of me, wouldn't it. The business is what it is; I'm just glad to have other options.
Yesterday I finished a conversation between a general and an astrologer, and got a starship loaded. Today is for the Sheriff of Nottingham doing dastardly deeds in Much the Miller's Son's direction and a somewhat elliptical conversation between a prince and a lady-in-waiting.
It's a good job, and I like it. I may even be able to put in a few more lightsaber battles in HOOD other than the sparring in Season One and the giant set-piece planned in Season Two.
But first, there's a run to get in, and a few bits of correspondence to scribble on and fling out the digital window.
See you around.