It's very warm for March, and you know what that means.
Bees.
I will be heading out to run soon, and I'm sure they're waiting to crawl into my hair, gonna attempt to nest in my mouth, just can't stop thinking about putting their feelers in my nose–and all while I'm trying to run.
This is entirely separate from squirrels noticing that when I take Sir Boxnoggin out for walkies or running, he's tied to my waist and can't do much more than lunge. Oh yeah, they've figured that out, the little arboreal nuisances. Just the other day we came home and a particularly sleek, rotund fellow with a bottle-brush tail zoomed across the driveway, stopping once to flick said tail in Boxnoggin's general direction. I could swear I heard a tiny guffaw.
That was the same day the Princess informed me that the damn squirrels had been doing reconnaissance up to the front door. "They're watching us," she says balefully, at different points through the day. "There was one in the apple tree outside the dining room window, too."
This does not bode well at all.
In brighter news, I took a picture of the proof copy of the Roadtrip Z omnibus yesterday.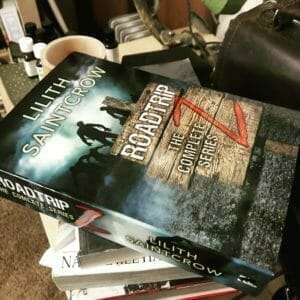 And some fine upstanding soul popped into my feed with this work of art:
I laughed until I couldn't breathe and the dogs were licking excitedly at my face, my phone, and whatever else they could reach, wondering what the hell.
Finally, I've been meme'd. What a time to be alive, my friends. I don't even mind that today's run will be full of bees and the dogs will probably try to drag me after a laughing squirrel.
Over and out…