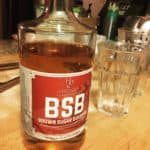 I find myself muttering, "Christ I wish I still drank" more and more often these days. Breaking out in hives the morning after I indulge in any alcohol isn't as much of a deterrent as it might be.
It's a busy month. Birthdays, tax preparation, phone calls to be endured. At least I have a few recipes to work on and perfect. I'm considering leek and potato soup in the Instant Pot, but we'll see. I also want to try focaccia with the method in SALT FAT ACID HEAT. Normally I'm not a fan of enriching bread with anything that'll coat the starches and keep the gluten from firming up, but there's always room in life for experimentation, right?
All the social and life obligations mean less time for writing. I've been working at white heat for a while but apparently, it hasn't been enough. I wanted to have a zero of HOOD's Season One by this point, but it just hasn't happened. Plus, The Poison Prince needs steady filling work, being the middle book in a trilogy. Everything needs to be balanced just-so, and being called away from the work at this point is frustrating in the extreme.
It's also very chilly, which means the dogs don't want to go outside unless they can use me as a windbreak. And each time we do so, my hair rises up in rebellion and does its best to strangle me. I suppose I should tie it down but then my nape and ears get cold. At least there are no bees nesting in my mop; they generally wait for warmer months.
I also have, by virtue of an excellent best friend, a tea bush–an actual tea bush–that was raised locally so is hardened to our peculiar conditions. I want to wait until it's no longer so frigid to get it in the ground, maybe right next to the butterfly bush or in one of the southern garden boxes. Just imagine–one's own tea leaves, hyperlocal and hand-dried.
I did get a few books knocked off this weekend on the reading instead of the writing end, including a kind of useful but startlingly stuck-up review of just-before-modern Japanese literature. I've been defeated by The Tale of Genji numerous times but with annotations, lit crit, and glosses, one day I might climb that mountain, and critical works are a good way to begin to figure out what to look for in books I don't understand the milieu of. I want to value what I read properly, and that means I must search for understanding.
My TBR has a dent in it and I should shelve everything on the "this has been read but not yet put away" section of my office just to get some breathing room. Maybe I'll just take March as more reading-friendly than working-friendly, throw up my hands, and call it good…
…but I wouldn't bet on it. I am, I suppose, a stubborn pumpkin, and one who needs a run no matter how cold the wind.
See you around, my dears.