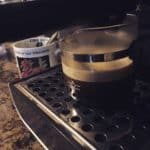 I will not ever go out uncaffeinated again. Saturday was enough for me, thanks. Having to tear my dogs away from some neckbeard's unleashed canines–because a certain type of heavyset white man thinks that leash laws are just advisories for someone of his exalted status–while lacking a base level of caffeine in my blood is not a good time.
Pre-coffee I'm irritated with everything. EVERYTHING, even the need to breathe, not to mention clothes, or even my very flesh itself. Not to mention anyone who tries speaking to me before I have elixir in my veins. The kids get a pass, of course, and the dogs make me laugh. But otherwise? STABBY McSTABBERSON, that's me.
I did have a lovely weekend otherwise, what with a Sekrit Projekt and a mess of housework. There were books to finish reading, too, like Luce D'Eramo's Deviation and a very old, very tiny hardback on the French Revolution. All in all, it was pleasant–except for the jackasses who won't leash their dogs.
Anyway, I'm using the Sekrit Projekt as a carrot to get me through HOOD's Season One and the next big chunk of Epic Fantasy #2. If I can just get through the rest of the epic fantasies, I swear I won't ever make this mistake again. *sigh*
In any case, the dogs are itching for a run, and since it's a clouding-up Monday we hopefully won't come across any entitled chucklefucks with legal comprehension problems.
Hopefully.
I should also mention that due to ongoing piracy, there will not be an ebook edition of Steelflower in Snow. Further Steelflower books will also have to wait for me to have the time and resources to write them. At this rate, the return to G'maihallan and the Dark Mountain saga will not ever be written; if I get through the Highlands War it'll be a miracle. If you want to be mad at someone for depriving you of Kaia's future adventures, be mad at e-pirates and torrent sites. I wish I could demand that any further work coming out through trad publishing be paper-only, too. If it's not the pirates stealing from a writer it's a publisher wanting you to do unpaid clerical work finding and submitting piracy URLs before they bestir themselves to act.
I'm beginning to hate ebooks, and I really shouldn't. It's not the format I hate, or the readers–definitely not the readers! It's the goddamn thieves, and the asshats who make excuses for the thievery.
Well, that's the last of my coffee. I can't wait for spring rains to come in. At least when it's pouring I can run alone with the canines. I have a scene with Little John and Alan-a-Dale to write today, as well as getting back into a "tell me about these assassins" moment between a general and an astrologer. I'm swamped.
Let us embark upon Monday, chickadees. It will get better the further in we get.
Or we'll stab it.