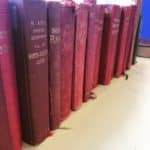 I've taken to making a list of the next day's proposed work before I go to bed at night, and leaving it on my desk. It's yet another way to get the engines beneath the floor of my consciousness to work on what I want them to work on instead of chewing up random stuff and spitting it at me at 3am.
I mean, that's kind of fun and there's room in my life for it, but it needs to be a seasoning, not the whole dish.
Yesterday I was struggling with The Poison Prince. It's the second in a trilogy, so the bridging requires careful thought. It's early days in the project, so I had to take a deep breath and let the book do what it wants. It worked–a scene I didn't expect fell out, a character moving forward and taking her place in the sun. She gets an arc of her own, this young lady, but I'm not sure where it ends.
I have to write and find out.
Then it was HOOD, untangling a discussion between Alladal and Marah. Al's a romantic lead all her own, and she wants the Dirty Dancing soundtrack all the time. Marah, of course, has been carrying a torch for someone all this time. There are several relationships happening at once when Marah, Robb, Giz, and Al are all onscreen, and a vast majority of them are unrequited.
It's fun. And deconstructing the Robin Hood mythos is even better. I'm fascinated by the idea that terraforming and generation ships won't necessarily lead to a fairer and more equitable society. Plus it's difficult to have the whole Robin Hood thing without a huge inequality, whether corporate or feudal or–what I've eventually gone with–both. It's also fun to swim around in the history and myth and pull out the threads one wants, clipping them fast and building a whole new structure. After working with many different influences, it's like slipping into a warm bath to return to one's own backyard.
Anyway, today I get to write Little John and Maid Marian, as well as John and Robin Hood puffing and blowing like the two stiff-necked veterans they are. It doesn't help that both of them are drunk and wounded from separate barfights.
Well, write what you know, right?
There's also Latin flashcards, piano practice, and running the dogs. My dance card's full, and that's the way I like it.
Let's kick Thursday in the pants.