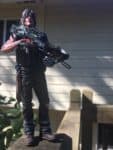 My eyes are watering furiously. It's probably leftover from the fry bread experiment last night–I found a recipe and went all in. I'm thinking I want to do it in shortening instead of canola oil next time, and further thinking I want to work a little something into the dough to make it a teensy bit less stiff. Not a lot, because that's how you get the pockets, but a little bit.
The Princess, not to be outdone, went to work on this marshmallow recipe after dinner. So, this morning there's the smell of frying and a whole pan of springy, fluffy marshmallows. I'm not sure what it means, other than the fact that the Princess is coming into her own as a candy maker. She's going to Willy Wonka the world, I can just tell.
She never used to like working with meat or high-temperature sugar cooking, but flour is a gateway drug and now she's in it to win it. I'm surprised she isn't chocolate-dipping the marshmallows. Half of them are going to go to a friend's house, which is good, and if there are any left on Sunday I'll be having a giant mug of hot chocolate STUFFED with homemade mallows.
All in all, things are pretty quiet here despite my deepening cough and the dogs' insistence that running around screaming constitutes exercise. I could take them for a run, but I'm not sure my ankle would hold up. On the other hand, Sir Boxnoggin will be getting a bath today, and that will tire him out more than any amount of running and yapping.
I'm on my second jolt of coffee and thinking about another scene between Friar Tuck and Prince John today. I'm also hoping that when I go back to HOOD yesterday's efforts will not be in vain. I mean, I'll probably have to throw out half of it, but that's better than having to throw out the whole thing, right?
Right?
Anyway, that's the news that's fit to print. This upcoming weekend is for more Lightning Bound (I kind of want to do a big banquet scene again) and for a hot date with Caesar's Gallic War, because my Latin is rusting and I need to get back with it. Unfortunately it's only Tuesday, so Latin, the witch and the storm god, and homemade marshmallows have to wait.
It'll just make the indulgence sweeter when I get to it. Or so adulthood tells me.
I hope that's not a lie. Over and out.