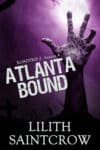 So the Kindle edition of Atlanta Bound is now back up at Amazon. Since it's coming through Draft2Digital, I can be assured you're getting the whole file and there's no hanky-panky. Amazon's still refusing to make things right with me, for lo I am just a poor content creator. I'll just take my toys and go elsewhere. I'm considering shifting plenty of my previous works off KDP–don't worry, they'll still be available for Kindle and on Amazon itself, I just won't be listing them through the KDP interface.
Oddly, the books I haven't listed through KDP seem to do ever so much better than the ones I have. Which makes me very…thoughtful.
Very thoughtful indeed.
In any case, it only took two weeks, severe aggravation, and multiple emails both from me and from angry Readers. Practically a bargain, right? (/sarcasm)
Anyway, I have Robb and March drinking tai, a servant girl and her mistress, and a daimon and a Celestial Representative to write today, as well as Latin, piano practice, running, snuggling the doggos, and dinner to think about. It's a full card, and why I jam-packed my holiday Monday I have no idea. Unless it was that I felt so good on Sunday I made out the list for the next day's work in a fit of deep optimism.
Even the best of us have those moments, I'm sure.
Anyway, it's time to get the next few things on the list checked off so I can run with two dogs trying to pull me in opposite directions. I've never seen the Chariot card played so plainly in real life. It's enough to put me off tarot for a week, except I need the practice.
See you around, folks.