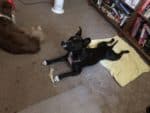 Lord Boxnoggin is a Very Curious Dog, in both senses of the word. He is ever ready to Do A Protec when a car door slams somewhere in the neighborhood, or when the doorbell rings, or even when it's foggy outside and he just doesn't like the way a certain fir tree is looking at him.
Right now he's thrown himself dramatically to the floor in my office, since brekkie has been eaten and now he must endure Mum's poking at a glowing box before getting to the real morning business: a run. My ankle is finally ready for light jogging, and he's thrilled to bits. This morning has been Unsatisfactory to Boxnoggin for a variety of reasons, like:
Boxnoggin: BREAKFAST! WAIT, NO BACON GREASE?
Miss B: THERE'S PITA CHIPS! WOOHOO! *grabs one and trots away to eat it in secret*
Boxnoggin: WHAT? I DIDN'T GET ANY! MUM! NO FAIR!
Me: They're right there, under your kibble.
Boxnoggin: HOOMINS ARE MAGIC! I CAN HAZ PITA CHIP! *trots away to eat it in secret*
Miss B: *returns, full of self-importance, and sticks her nose in Boxnoggin's bowl* ANYTHING IN HERE FOR MEEEEE?
Boxnoggin: MUM! MUM! SHE'S IN MY BOOOOOWL!
Or, for example:
Boxnoggin: WHAT THE HELL?
Me: It's fog, it's fine. It's just water vapor.
Boxnoggin: BUT NEW! DIFFERENT! CHANGE IS BAAAAD!
Miss B: GET OUT OF THE WAY, I'VE GOT TO PEE.
Boxnoggin: NOOOOO DON'T GO DOWN THERE, IT'S BAAAAD!
Miss B: WHAT THE HELL, DUDE, I'VE GOTTA PEE!
Boxnoggin: LET ME BACK INSIDE. I'LL PEE THERE.
Me: No. Go down the stairs.
Boxnoggin: BUT I CAAAAAAN'T!
Miss B: GET. OUT. OF. MY. WAY.
*fursplosion*
Me: STOP IT, BOTH OF YOU.
Both Dogs: EEEEE MUM'S BORKING, WE MUST BORK TOO! BORK BORK BORK!

But the biggest, most unsatisfactory event of the morning was the squirrel on the deck railing who laughed at Boxnoggin, while the latter damn near cleared the bloody thing and went sailing into the yard. The squirrel–I think it's Batgirl, but it was moving too quickly to be absolutely sure–levitated aside to reach yet another fir tree, chittered a few nasty terms having to do with Boxnoggin's mother wearing Army boots or some such, and vanished upwards, laughing all the while.
And Boxnoggin? While this was occurring he did his best to tear the railing off the deck, screaming about VENGEANCE and CHASE IT and MUUUUUM, so Miss B, not to be outdone, began to yell too.
At least it's a Monday morning, and hence one I don't have to worry about sleeping neighbors upon.
…The Princess just arose from her slumber, and of course both dogs have to supervise her morning routine. That'll give me about five minutes of peace before they trot back to see if I've moved or taken the opportunity to tie my shoes, which means a run is coming closer.
I'd better act quickly. Over and out…