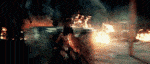 The dogs want a run this morning. They won't get one, mostly because my ankle is still tender. Maybe some walkies, if I can get enough coffee in me. As it is, I'm staring at the screen while sucking down as much caffeine as practicably possible, and wondering, as I perennially do after a release or a revision, why recovery takes so goddamn long. 
Even when I force myself into a couple days of doing absolutely nothing that can be considered work (I'm only allowed two hundred fresh words on such a day) it STILL takes longer than I think, and I inevitably try to go back to work, have a spasm of productivity, and then sit, staring and blinking, for about three days.
You'd think I'd have this down by now, but I don't.
The dogs, meanwhile, are ecstatic. I cook a lot while in recovery, which means the kitchen is full of dropped scraps and lovely smells. There is much snuggling and rolling about on the floor, much playing with toys, and much repeating of "you are a GOOD dog, yes you are!"
The spasm of productivity was getting Atlanta Bound all prepped for preorder and the final chapters of Roadtrip Z prepped and scheduled for patrons and subscribers. That takes a significant load off my diminished capabilities until after the first of the year, which is welcome. It'd be nice to get the box set (all four Roadtrip Z seasons, paper costs may mean that comes out only in e-format, which would be a shame) all settled and ready to be put in the preorder pipe in January, but that's a pretty high bar, especially if I want to re-edit the whole thing.
*sigh*
Sir Boxnoggin is letting out a series of chesty barks at short intervals, summoning me to come peer out windows at neighbors who are doing yard work. If he glimpses movement, or hears a car door slam/tree branch fall, he is ALL OVER THE BORKING. Which means, of course, that Miss B has to be all over the borking as well. After that, there's nothing for it, Mum has to get up and investigate and make much of Boxnoggin for alerting and Doin A Heckin Good Doggo Protec. Then Miss B has to horn in and get some snuggles and pets because she did a good heckin protec too.
Consequently, I can't finish a damn thought. Time to wrap this up and get the dogs leashed for walkies. After they stuff a great many scents into their snouts, they'll have to come home and process, which means napping. Which means some quiet while I figure out omnibus paper costs.
Wish me luck.