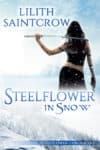 People have finished reading the latest Steelflower, and I'm starting to get emails. Most of them are lovely. There are the usual asshats thinking that being nasty over my decision to release first in print will somehow change my mind, but they're few and far between, for which I am grateful.
Many of you have asked when the next Steelflower is out, including one despairing soul who pleaded, "please tell me I don't have to wait another year!"
I…I can't tell you that, my friends. But if you want to make it easier for me to write these things you love, there's a few things you can do to help me out. The list starts with, of course, buying my books instead of torrenting them, since the more royalties I lose from people stealing my work, the less I can afford to work on things that don't pay me up-front–like the Steelflower books.
If you're one of those kind folks who does buy my books, and likes them, a few moments spent giving a review–even just a star rating–on the distribution platform (Indiebound, Amazon, Barnes & Noble, Kobo, etc.) of your choice helps more than you think. Once the star ratings/reviews reach a certain threshold, the books get bumped in algorithms, and more people get to (possibly) experience the deadly lunacy that is my brain.1 And if they enjoy it and dip into my backlist, that means I get paid to write more.
I also offer a variety of subscription options, where you can get peeks at stories in progress and free ebooks of the serial-in-progress. The subscriptions give me a steadier monthly income, which frees me up to write more of those things you love but a publisher won't (or can't) initially invest in. Gumroad's best, but I know a lot of you folks like Patreon, and that's okay too.
As it is, The Highlands War has to take its place behind the epic fantasies I'm working on, and the next serial (HOOD) and maybe Dolls and Tower of Yden too. I know exactly what happens (and who dies) but getting enough paid working time down so I can afford to write more labor-of-love stories (like Steelflower) is the trick here.
I'm sure I'll be inundated (again) by the usual trolls telling me that I shouldn't write for the money, that I'm a sellout, and that it's their gods-given right to steal my work. But for the non-trolls, these are the things that will help free up more of my time so I can tell you what happens to Kaia, Darik, Redfist, and the troupe in a brutal winter insurgency, and how that all shakes out. Funny thing, I've always known Kaia's story is a trilogy, but it ended up that the last book was so massive I had to split it in half, which is why Steelflower in Snow ends where it does.
Anyway, more than one person has asked about The Highlands War, and that's the answer. I'll be moderating replies pretty thoroughly to weed out the bloody trolls–you'd think these people would have something better to do, my gods–but as long as you're not yelling at me for not being a vending machine, your comment will get through. It just may take me a little while to weed through the queue.
Now I've got to run the dogs, and settle into the day's work.
Over and out.