Saturday I attended the Taste of Style with a friend, and while that was nice, I woke up Sunday morning with my head full of snot and my entire body aching. The first (let's hope it's the last) cold of the season has arrived, and certainly wasn't helped by my silly (but entirely adult) decision to have a drink with early dinner and a couple glasses of gallery-opening-quality wine. 
Apparently I am not allowed to drink at all, according to my body, and murder causes paperwork, so I'm going to have to find a different way of coping with the current political situation.
Being physically miserable kind of put a dent in the housework I wanted to do yesterday, but nobody's going to die if I don't dust. I got the dogs brushed, the upstairs hoovered, and the my laundry was already done, so I called it a win and spent most of the day staring vaguely into the distance while fumbling for a box of tissues.
The good kind, with lotion. Don't ever skimp on your kids, your books, your asswipe, or your nosewipe, my friends. If I've learned anything from adulthood, it's that. 
Today is the drop-dead date for starting Steelflower in Snow revisions.1 I'm thinking that will be released late October or early December, since November is set aside for a completely different book.2
I've also been playing around with placeholder covers, like for Incorruptible.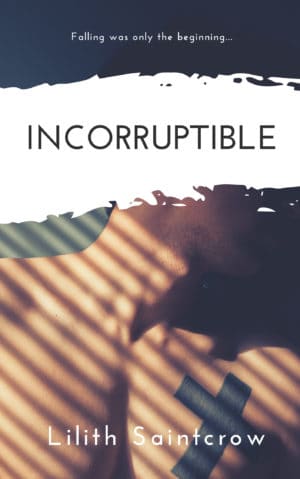 Of course everyone I showed versions to said my name needs to be bigger, but that feels like hubris. And don't worry, this book isn't out yet. I may even do it as a serial, I haven't decided yet.
In any case, I have some cold medication to swallow and the dogs to wear out. Since I couldn't run or ramble yesterday, they are both fidgety as fuck, needing something or another to bleed off that excess energy. I won't be able to move very quickly, but at least sniffing all sorts fo interesting new smells will keep them occupied and give them something to process when they collapse for a nap.
Nap. That sounds good. But I've miles to go before I sleep, even for a bare twenty minutes.
All right, Monday. We're not going to hurt each other, right?
Right?
Please do not send me any more abusive emails about how you hope it'll be available in ebook, people. Just don't.