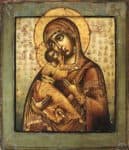 This morning brought a leisurely breakfast with the Princess. We haven't seen each other for a couple days, so it's good to catch up, even though both of us are coughing, hacking, and filling wastebaskets with used tissues at a truly alarming rate. The dogs were glad both of us were in the same place for an extended period–they hate when anyone leaves, and both canines want to herd the hoomins into a tight bunch so they can supervise with little effort.
So the Little Prince was off to school and the remaining monkeys were in the same room, which sort of balanced everything out. Now, however, we've separated to begin our days, which means Sir Boxnoggin is trotting up and down the hall and Miss B is curled next to my chair, eyeing me reproachfully. Why, oh why, can I not stay where she places me?
In any case, I'm not as physically miserable as I was Sunday, and feeling better than yesterday. The Princess is a couple days behind me on this cold cycle, so today will probably be the worst. Thankfully, she can spend it on the couch with a box of tissues and plenty of liquids.
I might even make triple-garlic chicken soup for dinner. We all sorely need it.
Incorruptible continues apace, and revisions on Steelflower in Snow do too. If I can get the "Karnaugh" section of the latter revised, I'll count it a day well spent. I've decided the next serial will be the gunslinger story, so I should start making preparations for that, too. A placeholder cover will be fun to do once I accomplish everything else today.
And maybe, once all that is done, I can make another pair of super shiny earrings. I'm experimenting with cup chain, which is sparkly but finicky. And so. many. jump. rings. I must have wasted at least six trying to get everything connected on yesterday's pair.
But the finickiness is so worth it, since these were EXACTLY what I wanted. Bright, swinging armor. I can't wait to make more of them, frankly. People keep asking if I'm going to sell them on Etsy, and if I get to a place where I'm comfortable about my craftsmanship, I'll probably put a few pairs up. It seems like a cool way to lose a little cash, and better than shipping books around.
So that's my day. I might shoehorn a run in, too, if I get really ambitious. But for now, it's time to brush my teeth, make some more coffee, and get down to Incorruptible.
Over and out.